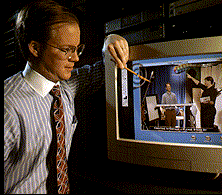 Don't Sell... Inform
How the best international companies are using the Web to reach their most influential audiences.

Michael J. Palmer
User Interface and Digital Media Lab
Center for Advanced Technologies
American Management Systems, Inc.

Popular media coverage to the contrary, there is indeed much more meaningful activity among the businesses and other institutions establishing Web server infrastructures than the much-ballyhooed stampede to cash in through transactional commerce on the Web.
While they are not drawing anywhere near the media attention as the cyber-merchants, other organizations are working just as hard at elaborating different segments of the business development continuum on the Web -- and creating highly innovative approaches in the process. In this talk Mike focuses on the efforts of many of these organizations to use the Web creatively. Their subject matter: substantive (not to mention aesthetically appealing) multimedia information about themselves and their activities. This mode of corporate electronic publishing on the Web succeeds only to the extent that it mediates accurate and detailed information, with no sales hype and minimal "execspeak" news release babble.
These new multimedia modes provide an important service in the information economy, and are becoming valuable resources for the community of professionals that depends on accurate data about the activities of other companies and organizations. This increasingly influential community includes not just media types and the press, but market researchers, securities analysts, fund managers, and academics too --to name just a few segments of this so-called "opinion leader" sector.
In a nutshell, Mike Palmer's commentary in this session emphasize how the most far-sighted international organizations are building business advantage through the core values of the Web: communication and information discovery. He points out the leading international examples of substantive corporate electronic publishing on the Web, and offers a few suggestions about the future of Web-based invitational publishing in the commercial and institutional sectors.
To contact Mike by e-mail, click here. You can also access the full-text essay version of "Corporate Invitational Publishing: Commerce doesn't mean hard sell, and multimedia doesn't mean hype," a related talk he gave at The National Online Meeting in New York (May 1995).
Mike is also teaching several tutorials on corporate use of the Web in coming months. Click here for more information on two of these educational offerings.


---