Ovid: Metamorphoses
Book 10, Plate 97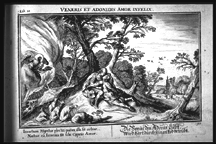 The Story of Venus and Adonis
For Cytherea's lips while Cupid prest,
He with a heedless arrow raz'd her breast,
The Goddess felt it, and with fury stung,
The wanton mischief from her bosom flung:
Yet thought at first the danger slight, but found
The dart too faithful, and too deep the wound.
Fir'd with a mortal beauty, she disdains
To haunt th' Idalian mount, or Phrygian plains.
She seeks not Cnidos, nor her Paphian shrines,
Nor Amathus, that teems with brazen mines:
Ev'n Heav'n itself with all its sweets unsought,
Adonis far a sweeter Heav'n is thought.
On him she hangs, and fonds with ev'ry art,
And never, never knows from him to part.
She, whose soft limbs had only been display'd
On rosie beds beneath the myrtle shade,
Whose pleasing care was to improve each grace,
And add more charms to an unrival'd face,
Now buskin'd, like the virgin huntress, goes
Thro' woods, and pathless wilds, and mountain-snows
With her own tuneful voice she joys to cheer
The panting hounds, that chace the flying deer.
She runs the labyrinth of fearful hares,
But fearless beasts, and dang'rous prey forbears,
Hunts not the grinning wolf, or foamy boar,
And trembles at the lion's hungry roar.
Thee too, Adonis, with a lover's care
She warns, if warn'd thou wou'dst avoid the snare,
To furious animals advance not nigh,
Fly those that follow, follow those that fly;
'Tis chance alone must the survivors save,
Whene'er brave spirits will attempt the brave.
O! lovely youth! in harmless sports delight;
Provoke not beasts, which, arm'd by Nature, fight.
For me, if not thy self, vouchsafe to fear;
Let not thy thirst of glory cost me dear.
Boars know not bow to spare a blooming age;
No sparkling eyes can sooth the lion's rage.
Not all thy charms a savage breast can move,
Which have so deeply touch'd the queen of love.
When bristled boars from beaten thickets spring,
In grinded tusks a thunderbolt they bring.
The daring hunters lions rouz'd devour,
Vast is their fury, and as vast their pow'r:
Curst be their tawny race! If thou would'st hear
What kindled thus my hate, then lend an ear:
The wond'rous tale I will to thee unfold,
How the fell monsters rose from crimes of old.
But by long toils I faint: see! wide-display'd,
A grateful poplar courts us with a shade.
The grassy turf, beneath, so verdant shows,
We may secure delightfully repose.
With her Adonis here be Venus blest;
And swift at once the grass and him she prest.
Then sweetly smiling, with a raptur'd mind,
On his lov'd bosom she her head reclin'd,
And thus began; but mindful still of bliss,
Seal'd the soft accents with a softer kiss.
From here you may go to the text and image of Book 10, Plate 98, or to the complete page of Plates for Book 10, or to the Baur 1703 Title Page, or to the Ovid Title Page.