Godey's Lady's Book
Color Plate, February 1857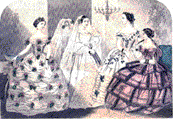 ---
Description of Steel Fashion-Plate for February (1857)
Costumes for a Bridal Reception
Bride's Dress.--Pure white silk, the skirt full and wide; the front breadth is arranged, en tablier, with rows of rich lace. The corsage is trimmed to correspond with it, and the sleeves have deep fulls of the same. Point lace veil, which can afterwards be worn as a scarf, fastened on each side by bouquets of white jassamine and orange flowers.
First Bridesmaid.--Dress of white tarleton. There are two slirts, looped by oleander blossoms, with their pointed leaves dropping below. Coronal of the same for the hair.
Bride's Sister.--Dress of white satin, with sprays of ivy. Garland of the same, arranged as a cache peigne.
Guest.--Dress of rose-colored silk, with the skirt in four deep flounces. Each breadth is separated by a flat black velvet galloon, edged with black guipere, as are the flounces; pointed bodice, with Grecian drapery across the bust, confined by knots of lace, ribbon, and velvet. Headdress, a band of rose-colored ribbon, knotted behind, with long streamers. See detail of galloon and guipure.
---