MEDSINC...

improving child health by expanding global access to pediatric healthcare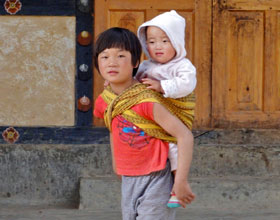 Overview
Our goal for the Medical Evaluation and Diagnostic System for Infants, Newborns, and Children (MEDSINC) is to provide a non-invasive point-of-care clinical assessment and diagnostic system, implemented through community healthcare workers, to globally expand pediatric-specific healthcare to children in resource poor countries and reduce under-5 mortality, morbidity, and burden of disease

It is estimated that 6.6 million children under-5 years of age died in 2012. Almost 99% of these deaths occurred in resource-poor countries. Of these deaths, 53% are considered preventable with appropriate pediatric-specific clinical assessment and early therapeutic intervention. Common and treatable contributors to this disease burden are respiratory failure secondary to pneumonia, cardiovascular compromise associated with diarrheal induced dehydration, and Systemic Inflammatory Response Syndrome (SIRS) associated with blood borne infections.

Unfortunately, access to professional health care providers in resource-poor countries is extremely limited, often only 1:50,000-100,000 for doctors and 1:10,000 for nurses, with pediatric-specific clinical assessments and interventions even more limited. Additionally, facilities, infrastructure and academic foundations to train health care providers are extremely limited and this is unlikely to change for the foreseeable future.

Strategy

MEDSINC will link non-invasively acquired pediatric-focused physiologic data with an automated clinical assessment and diagnostic system. It will automate age and gender-controlled data and response analysis for common, treatable pediatric diseases utilizing WHO IMCI algorithms and protocols as its framework, in addition to integration with up to date best-practice, evidence based, clinical assessments, that are regionally specific. It will also be integrated with a self learning evolutionary probability computation analysis system for diagnostic and therapeutic assessment.

This system will utilize off-the-shelf smartphone and medical device technology for more efficient analysis of pediatric-focused physiologic data, lower-cost development, faster deployment, and long-term sustainability.

MEDSINC will utilize a sustainable and adaptable task-sharing model with community healthcare workers providing pediatric-specific healthcare services. It will be designed to be deployed along with a cloud-based database and analysis system, connected locally to healthcare providers, and globally to researchers and policy makers.



Last modified February 12 2014 04:59 PM