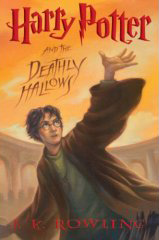 My father, my father-in-law and I all have birthdays within a week of each other. This weekend, we had a July Birthday Boys barbeque to celebrate. It was nice to have a big family gathering.
NatureBoy spent much of the time with his nose buried in my birthday present, the last Harry Potter book. My SiL pre-ordered it so it arrived on Saturday, and I settled in to read after dinner. I had only read one chapter before NB was reading over my shoulder and whimpering. DW pointed out that he had spent the last month rereading the previous books. So we made an agreement; I would let him read it first, but he couldn't say anything about the story and plot.
He agreed, of course, and spent most of the evening Saturday, most of Sunday (except for a kayaking outing to the Sandbar) devouring the book. Have I mentioned that he reads faster than I do? In a couple hours this morning, he finished the book, and a couple hours later, muttered comments about the story have started to bubble out of him like Ron's slugs. I promised to get reading ASAP.