"Louis was a very pretty child with a very fair complexion, very light hair, and blue eyes," Harriett Abbott had written in her report for the Vermont Children's Aid Society in 1923. Louis had been placed in the Vermont Industrial School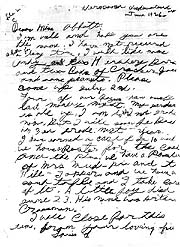 in Vergennes in 1922 after his mother had been placed in the Brandon Colony for Feebleminded Women. A local Red Cross nurse turned her over to the authorities for child neglect and adultery, having discovered the family in a little shack outside Bennington. She had married at 14, was deserted by her husband seven years later, and had lived with other men. She had served time in Massachusetts for adultery, where her three oldest children were made wards of the state and where Louis was born.
Louis belonged to one of Vermont's "notorious" families, one that social workers had been investigating as members of Vermont's "social problem group." Harriett Abbott had developed an extensive family history on Louis in 1921-23, after he and his younger sister became wards of the Children's Aid Society. It was Louis' family pedigree, prepared by Harriett Abbott, Lena Hamilton, and Charles Wilson at the Vermont Industrial School in 1924, that provided Harry Perkins's inspiration for the Eugenics Survey of Vermont.
Miss Abbott visited Louis in the reform school at Vergennes, brought him gifts, and replied to his thoughtful letters. Meanwhile, she diligently solicited information from local officials and state agencies in order to determine his racial background and intellectual capacity. She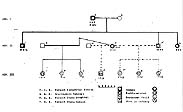 constructed his family pedigree and social profile as one of Vermont's "degenerate" ones and calculated the cost of his family to the taxpayers of Vermont and Massachusetts. When completed, Louis' family pedigree registered 297 of his relatives (6 generations). In her final summary, Abbott listed the family's "main defects" as insanity and immorality and its "other important defects" as feeblemindedness and dependency.
Documents from the files on Louis' family illustrate the process used by the Eugenics Survey to render the personal data, informant's opinions, and family misfortunes into a "pedigree of degeneracy." But Louis' own letters to Harriett Abbott remind us of the humanity that lay beneath Harriett Abbott's devastating conclusions and betrayal of a trusting twelve year old. The files do not reveal Louis' fate after his release from the Vermont Industrial School, probably in 1930. But we do know something of the community attitudes and social climate that awaited him.