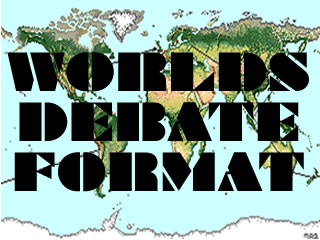 SPEAKERS IN THE VIDEO LECTURE SERIES
---
ALISTAIR CORMACK, UNITED KINGDOM
Graduated from the University of Durham with an honors degree in history and politics. He was president of the Durham Union Society and represented Durham at both the European and World Debating Championships. Cormack won several British intervarsity competitions and was ranked in the top ten European speakers of 2006 and is also a finalist at the English National Championships. He has convened the Durham IV and Durham Schools competitions. This is Cormack's second ESU tour; in 2006 he was part of the tour of Japan.
LOKE WING FATT, SINGAPORE
Famous for the way he takes this format to places it hasn't been yet, this experienced trainer is a breaking judge at WUDC and has taught at the International Debate Academy, the Asian Debate Institute, World Debate Institute Asia, as well as in most countries of Asia. He is especially known for his groundbreaking work to promote debate and specifically this format in China.
NEILL HARVEY-SMITH, UNITED KINGDOM
Neill is a former World Championship grand finalist and won the John Smith Memorial Mace in both England & Wales and Scotland. He was Chair of the Grand Final at the 2004 World Debating Championships in Singapore, having previously adjudicated the Grand Finals of Worlds, the European Championships, the International Mace. As a student he won around 25 inter-varsity debating competitions. He is also the current President of the World Debating Council. Neill will be Chief Adjudicator at the 2009 US Universities Debating Championship.
ALEX JUST, UNITED KINGDOM
Alex is a former president of the Oxford Union and a senior at the University of Oxford studying history and politics. Since his first speech, which was about sausages, Just has built on a strong base to become a grand finalist at the World Schools' Championships in Singapore and a grand finalist at the World Universities' Championships in Malaysia. He has coached debate in Australia, France, Qatar and the U.S. Most recently, Alex coached the Scottish national debating team who won the 2007 World Championships in South Korea.
STEVE LLANO, USA
Now Director of Debate at St. John's University in New York City. Named the 2007-08 Debate Director of the Year in the Northeast USA. Has coached at a number of prestigious programs, including winning national championships. Extensive experience with university students as well as with international students. Now focuses on WUDC parliamentary debate style. Also an award-winning judge and critic. Has long been a top rated faculty member at the World Debate Institute. Expertise in applying classical rhetorical theory and philosophy to debate situations as well as applying multicultural perspectives.
RHYDIAN MORGAN, UNITED KINGDOM
Rhydian is a student of and graduate in a number of disciplines ranging from Modern Languages and Philosophy to Law, Rhydian has been involved with competitive debating for several years as a speaker, judge and coach. He enjoyed some success both domestically and internationally whilst a student as a speaker, and has since judged at the highest level across Europe, as CA or Grand Final Judge of many prestigious tournaments. As a professional, he runs a successful business, teaching critical and lateral thinking skills, and principles of debate, in schools and universities all over Europe, and he is able to draw on his professional training as both an actor and a lawyer to bring a new dimension to his instruction of public speaking and presentation skills. He is currently devoting much of his time to supporting the Welsh Debating Federation and the domestic schools debating set-up, and lobbying to have Critical Thinking included as a core part of the national curriculum.
DEBBIE NEWMAN, UNITED KINGDOM
Debbie Newman has been a debater since high school where she reached the final of the world schools debating championships for England. At Cambridge University she went on to become the President of the Cambridge Union and was the England & Wales National Debating Champion. After graduation, Debbie went to work for the English-Speaking Union where she eventually became the Head of the Centre for Speech and Debate. She is a qualified teacher and education consultant and is the current coach of the England Schools Debate Team. She has taught and judged debate around the globe.
JAMES PROBERT, UNITED KINGDOM
James Probert is the head of the Centre for Speech and Debate at the English Speaking Union that organizes speech and debate activities globally from their base in London. James was a member of the England World Schools team that made it to the finals in 1999. James has been a judge at World Schools seven times and has taught debating in 25 countries. He was also recently elected to be on the World Schools Council.
BOJANA SKRT, SLOVENIA
Bojana Skrt is director of Z.I.P., the NGO that organizes debating activities at all levels in Slovenia. She has two EFL WSDC world titles to her credit and has organized a large and thriving debate community at all levels in Slovenia as well as promoting debating globally and especially in the former Yugoslav countries. She was recently elected to be on the World Schools Council. She sponsors a weekly prime time debate television program in Slovenia and is a former vice president of the International Debate Education Association.
ALFRED SNIDER, UNITED STATES
Alfred C. Snider is the Edwin W. Lawrence Professor of Forensics at the University of Vermont. He has spent the last thirty-six years promoting debate and critical communication as an alternative to violence and conflict as well as a method for achieving real democracy and a true civil society. He has done formal debate training in twenty-two countries and has trained debaters from over thirty-five nations at the World Debate Institute's sessions in the USA, Korea and Slovenia. He has directed the debate program at international conferences in Turkey, Estonia and Slovenia attended by scholars from over thirty-five nations. He has received every major award given to debate educators in the USA, including the Pelham Coach of the Year award, the Don Brownlee Service to Debate award, the Ziegelmueller Debate Coaching award, the Slappey Diversity in Debate award, the Douglas Dedication to Debate award and the Jacobsohn Service to Debate award. As a debater for Brown University he was third at the USA National Debate Tournament and second at the USA National Tournament of Champions, both in 1972. He is the Convener of the 2009 US Universities Debating Championship.

UNIVERSITY OF VERMONT - HOME OF THE WORLD DEBATE INSTITUTE