Diversity Climate Network (D-ClimNet)                                       Shaping the face of tomorrow's climate scientists
Program Overview
D-ClimNet represents a new national partnership among the University of Vermont (UVM), the University of California - Los Angeles (UCLA) and the University of Georgoa (UGA) to create a pipeline of under-represented students from the high school to graduate degree levels. The network is unique in its focus on the climate sciences as well as its commitment to training the next generation of racially and gender diverse climate scientists with an explicit focus on climatology, climate change, and climate policy .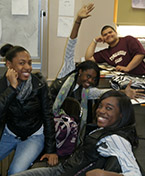 Students participating in D-ClimNet's high school outreach in New York
Students will be recruited from the rural and urban areas of New York City, Los Angeles and Georgia. The three-year pilot study will use longitudinal tracking of Earth Science students from Grade 9 through graduate studies to pinpoint best practices for student recruitment and retention in the climate sciences, which many under-represented students do not view as a viable career option. In addition to receiving climate science academic content, participating students will also interact with faculty and other students across the three campuses via electronic workshops and present their research at regional conferences.
One of the transformative aspects of the D-ClimNet is its involvement of the support system needed to facilitate student learning and academic success. This will take the form of Climate Days on weekends at participating high schools as well as allowing high school teachers to participate in the PI's NSF-funded Satellites, Weather and Climate program, where they will gain climate content knowledge to effect change in their curricula.
Finally, three of the four PIs are African-American mid-senior career scientists who will serve as mentors and role models for the persistence needed by students to complete their degree. By entraining underrepresented minorities into the study of climate science, D-ClimNet will not only increase opportunities for these groups but will help to shape the "face" of the next-generation climate scientists so that it more closely resembles the society in which we live.
Last modified July 22 2011 10:54 AM