2013-2014 University of Vermont Mens Club Lacrosse Team
The University of Vermont Men's Club Lacrosse team is focused on commitment before ability. We want to surround ourselves with players who love the game and are always looking to improve their level of play. Cuts and playing time are based heavily on participation, the players that show up to practice are the ones who will get the playing time. UVM Club Lacrosse established itself as a student group dedicated to playing high level lacrosse, but in a relaxed and positive environment.This team is student run with a board of officers consisting of mainly upperclassman but the window is always open for younger guys who want to step up and get involved. We play year round utilizing more of the schools resources such as Virtue field, the indoor turf complex, and most of all the increase in our budget from the past year to allow the team to play much more games this year.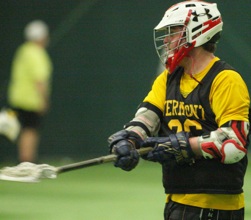 About Us
The teams we play range greatly from a bulk of Massachusetts teams to our friendly Canadian neighbors up in Montreal. Last year we beat Sacred Heart who completed in the NCLL Playoffs last year and almost beat UMass, at the UMass Tournament. We look forward to doing well this spring as we have joined the National College Lacrosse League (NCLL) New England D1 which includes teams based mainly in Connecticut and Massachusetts like UMass and Sacred Heart.
Current Players
Please take a look at the schedule. Our game next Saturday we will be hosting Club RPI and UMASS. It is important to make 2 out of these practices: 10/9 8pm Indoor Turf, 10/11 9pm Indoor, or 10/12 5:45 pm Virtue. Also I have ordered the Uniforms and they should be in 11/15.
Prospective Players
If you are interested in playing with our team please feel free to email Dylan at dwalsh4@uvm.edu or our Coach Leon at llifschu@uvm.edu.
Last modified October 06 2013 07:27 PM