Research Areas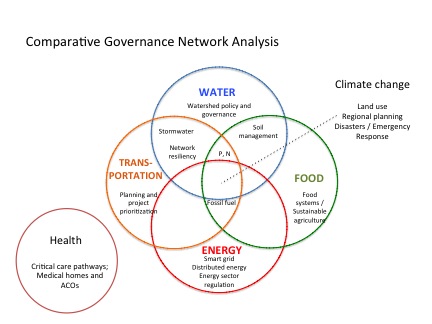 ---
Governance Networks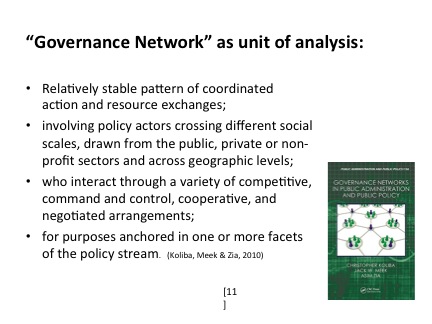 Governance Networks in Public Affairs and Public Policy (2010, CRC Press)
Dynamic Systems and Governance presentation at The Gund Institute at the Unversity of Vermont November 11, 2011
Selected publications:
Koliba, C. 2013. Book chapter: Governance Network Performance: A Complex Adaptive Systems Approach. In Agranoff, B., Mandell, M., and Keast, R. editors. Network Theory in the Public Sector: Building New Theoretical Frameworks. New York: Routledge Press. 84-102.
Koliba, C. and Zia, A. 2009. Dispelling the Myths of Invisible Hands and Invincible Governments: An Argument for Democratically Legitimate Inter-Organizational Governance Networks. Administrative Theory & Praxis. 31(3): 417-423
Koliba, C. and Meek, J. 2009. 'Mixed-Form' Governance Structures: An Analytical Turn. Public. Institute of Public Governance and Management. 47(19). http://www.esade.edu/public/modules.php?name=news&idnew=521&idissue=47

Koliba, C. and Gajda, R. 2009. Communities of Practice as an Empirical Construct: Implications for Theory and Practice. International Journal of Public Administration. 32. 97-135.

Koliba, C. and Lathrop, J. 2007. Inquiry as Intervention: Employing Action Research to Support an Organization's Capacity to Learn. Administration & Society. 39(1): 51-76.
---
Complex Systems
Selected publications:
Zia, A., Kauffman, S., Koliba, C., Beckage, B., Vattay, G., and Bomblies, A. (2013). From the Habit of Control to Institutional Enablement: Re-envisioning Governance of Social Ecological Systems from the Perspective of Complexity Sciences. Complexity, Governance and Networks. 1(1).

Beckage, B., Kauffman, S. Zia, A., Koliba, C., Gross, L.J. 2013. Book chapter: More Complex Complexity: Exploring the Nature of Computational Irreducibility Across Physical, Biological, and Human Social Systems. Zenil, H. editor. Irreducibility and Computational Equivalence. Berlin: Springer-Verlag. 79-88.

Koliba, C., and Zia, A. 2013. Complex Systems Modeling in Public Administration and Policy Studies: Challenges and Opportunities for a Meta-Theoretical Research Program. In L. Gerrits and P.K. Marks (Eds.), COMPACT I: Public Administration in Complexity. Litchfield Park, AZ: Emergent Publications.
---
Watershed Governance and Climate Change

Click here to watch a video presentation on Watershed Moments in Climate Change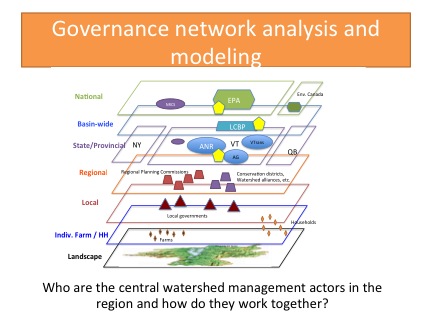 Selected publications:
Koliba, C., Reynolds, A., Zia, A., and Scheinert, S. (accepted for publication). Isomorphic Properties of Network Governance: Comparing Two Watershed Governance Initiatives in the Lake Champlain Basin Using Institutional Network Analysis. Complexity, Governance and Networks. 1(2).
Zia, A. and Koliba, C. 2011. Climate Change Governance and Accountability: Dilemmas of Performance Management in Complex Governance Networks. Journal of Comparative Policy Analysis. 13(5): 479-497.
---
Health Care Service Delivery
End State Kidney Disease Critical Care Pathway Analysis Using System Dynamics Modeling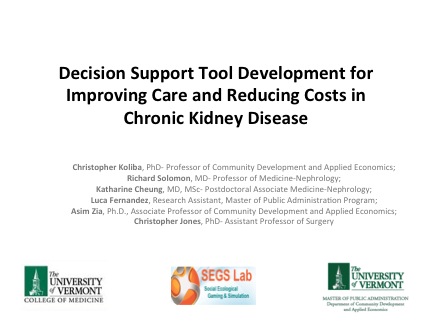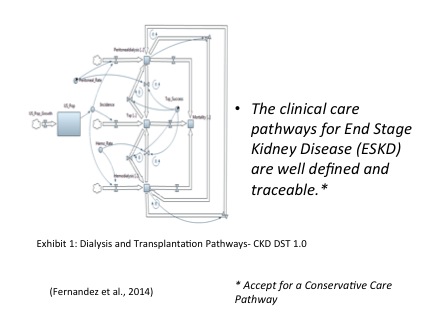 ---
Transportation Planning
Selected publications:
Zia, A. and Koliba, C. (2013). The Emergence of Attractors Under Multi-Level Institutional Designs: Agent-based Modeling of Intergovernmental Decision Making for Funding Transportation Projects. Artificial Intelligence (AI) & Society. 12/11/13 online.

Koliba, C., Campbell, E. and Zia, A. 2011. Performance Measurement Considerations in Congestion Management Networks: Evidence from Four Cases. Public Performance Management Review. 34(4): 520-548.
---
Food Systems
Selected publications:
Schattman, R., Méndez, E., Westjik, K., Caswell, M., Conner, D., Koliba, C., Zia, A., Hurley, S., Adair, C., Berlin, L., and Darby, H. (Forthcoming). Book Chapter: Vermont Agricultural Resilience in a Changing Climate: A Transdisciplinary and Participatory Action Research (PAR) Process. Benkeblia, N. (Ed.) Agroecology, ecosystems and sustainability . Advances in Agroecology Series. CRC Press/Taylor and Francis.

Conner, D., King, B., Koliba, C., Trubek, A. and Kolodinsky, J. 2011. Mapping Farm to School Networks: Implications for Research and Practice. Journal of Hunger & Environmental Nutrition. 6:133-152.
---
Energy regulation and electricity distribution
Selected publications:
Koliba, C., DeMenno, M., Brune, N. and Zia, A. (2014). The Salience and Complexity of Building, Regulating and Governing the Smart Grid: Lessons from a Statewide Public-Private Partnership. Energy Policy. http://dx.doi.org/10.1016/j.enpol.2014.09.013

Mills, R. and Koliba, C. (2014). The Challenge of Accountability in Complex Regulatory Networks: The Case of the Deepwater Horizon Oil Spil. Regulation & Governance. doi:10.1111/rego.12062
---
Emergency management
Koliba, C., Mills, R. and Zia, A. 2011. Accountability in Governance Networks: Implications Drawn from Studies of Response and Recovery Efforts Following Hurricane Katrina. Public Administration Review. 71(2): 210-220. [Winner: 2011 Marshall Dimock Award for Best Lead Article, PAR]
---
Civic engagement
Selected publications:
Westdijk, K. Koliba, C. and Hamshaw, K. 2010. Collecting Data to Inform Decision-Making and Action: Research and Planning for School-Wide Faculty Civic Engagement. Journal of Higher Education Outreach and Engagement. 14(2): 5-33.

Baker, D., Koliba, C., Kolodinsky, J., Liang, K., McMahon, E., Patterson, T. and Wang, Q. 2009. Moving Toward a Transdisciplinary Approach in the Land Grant System. North American Colleges and Teachers of Agriculture (NACTA).

Koliba, C. 2004. Is Service-Learning Contributing to the Downsizing of American Democracy? Learning Our Way Out. The Michigan Journal of Community Service Learning.Spring. 57-68.

Koliba, C. 2003. Generation of Social Capital in Schools: Expanding and Deepening Social Networks Through Service-Learning. Academic Exchange Quarterly. 7(2): 336-345.
---
Educational policy
Selected publications:
Gajda, R. and Koliba, C. 2007. Evaluating the Imperative of Intra-Organizational Collaboration: A School Improvement Perspective. American Journal of Evaluation. 28(1): 26-44.

Koliba, C., Campbell, E. and Shapiro, C. 2006. The Practice of Service-Learning in Local School-Community Contexts. Educational Policy. 20(5): 683-717.

Jennings, N., Swidler, S. and Koliba, C. 2005. Place-Based Education in the Standards-Based Reform Era—Conflict or Complement? American Journal of Education. 112(1): 44-65.
---

---
Integrated sustainable systems, LLC
Chris Koliba and Asim Zia have partnered to establish a small limited liability corporation to carry out independent consulting projects:
Program and project evaluation
Recent clients: Vermont Rural Partnership
Network analysis
Recent clients: Energy Action Network
Workforce development
Recent clients: The Development Corporation / Clinton Community College