Woody Biomass Energy Research Symposium for the Northern Forest
Middlebury Field Trip: 1pm - 5:30pm on Friday, April 29
Willow Plantations and Biomass Gasification Facility
Tour Middlebury College's combined heat and power
biomass gasification system
and
10 acre pilot willow site
(harvested this past January) with Jack Byrne, Director of the Sustainability Integration Office and Nan Jenks Jay, Dean of Environmental Affairs. The tour will begin at the Franklin Environmental Center with an overview and proceed to the willow site and then the biomass plant. The plant is scheduled for maintenance close to the tour date and may not be up and running but the tour will still be given as most of what there is to see will be the same as when running.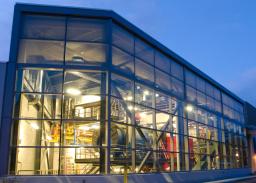 A fee of $10 will be charged to partially cover the cost of transportation. It can be paid through the
Registration page
.
PLEASE
REGISTER ON-LINE
as we need an acccurate head count for box lunches and buses.
Capacity capped at 20. First come first serve.
Please direct questions to:
Jack Bryne. Middlebury College
jmbyrne@middlebury.edu
or
Cecilia Danks, UVM
cdanks@uvm.edu
Last modified March 23 2011 09:04 AM