Forest Carbon and Communities
Inspiration
In Fall 2007, I read an impressive essay written by Michelle Garder-Quinn, an undergraduate majoring in Environmental Studies at the University of Vermont. I was struck by a number of things in that essay. Like me, she participated in the Student Conservation Association, traveled to the rain forests of Costa Rica and Brazil, and worked for the World Wildlife Fund in DC. Like me, she felt that her passion to protect the environment was rooted in her experience of nature as a child. And like me, she saw how environmental concerns affected human communities and how the needs of both humans and nature must be addressed together.
Unlike me, Michelle identified global climate change as the biggest environmental challenge of her generation, and generations to come. I had been focused on sustaining forests, livelihoods and communities without fully realizing that climate change threatened the sustainability of all. Michelle's essay was a wake up call for me.
Tragically, Michelle was murdered just days after writing that essay. But her words continue to inspire others. A number of celebrity-activists recorded her essay in this you tube video.
To honor Michelle's memory, I have reoriented my research and teaching to place climate change front and center in my work. All of the lessons learned from community forestry regarding institutional issues, such as collaborative governance and sustainable practice, are relevant to addressing climate change. I wish Michelle were here to be part of the Forest Carbon & Communities research group which has sprung up since her passing. There is so much to be done. As the musician-activist Holly Near sung, so I'll keep doing the work you were doing as if I were two.
You are always remembered, Michelle.
-- Cecilia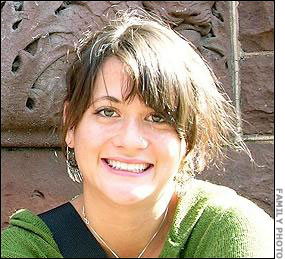 Last modified January 28 2010 01:16 PM