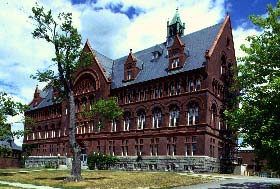 Williams Hall
Known first as Williams Science Hall this majestic three-and-a-half story red brick building was erected in 1896 by the University of Vermont to provide space for science education. Prominently located along University Row between Billings Library and Old Mill, the Old Art Building (now Torrey Hall) was moved northwest from the site to make way for the new science building.
Designed by Wilson Brothers, architects and engineers of Philadelphia, PA, the brick exterior facades of Williams Hall are enriched with terra cotta Gothic ornamentation.

Above the large Romanesque entrance arch are terra cotta medallions, above, with reliefs of three noted American scientists of the day, Louis Agassiz, Samuel F. B. Morse and Joseph Henry. Gargoyles defend the building at the bases of the gable parapets.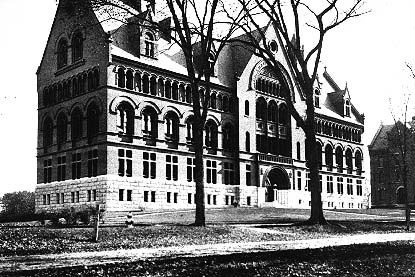 Williams Science Hall, circa 1900. (UVM Archives.)
Built with funds donated by Edward H. Williams of the Baldwin Locomotive Company of Philadelphia, Pennsylvania, this majestic fireproof building was equipped with state-of-the-art scientific equipment and laboratory facilities. It even featured its own dynamo for producing power for the electical engineering laboratories.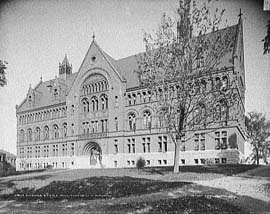 View circa 1901-1906. (Library of Congress, Prints and Photographs Division, Detroit Publishing Company Collection.)

Williams Hall now houses the Art Department, Anthropology Department, and the Francis Colburn Art Gallery.