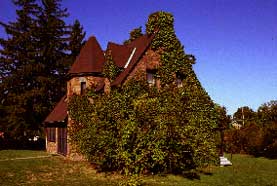 Redstone Lodge
The lodge for the Redstone Estate of Andrew Buell was designed by the Buffalo, NY, architecture firm of Marling and Burdett around 1891. It was constructed on or directly adjacent to the site of a wood frame building that is shown on an 1890 map of Burlington. The house was originally built for use as a gardener's cottage, however it has served as a residence for the University of Vermont since the Buell estate was purchased by UVM in 1921.
The two-story, Richardsonian Romanesque style gatehouse is nearly rectangular in plan with an octagonal stair tower slightly offset from the center of the front (south) facade. Its random-coursed, rock-faced ashlar walls are battered at the base and primarily fenestrated with recessed six-over-two windows, whose segmentally-arched openings are spanned by splayed stone arches with flat extradoses. Like the original estate's main house, Redstone Hall, the joints between the wall's redstone blocks were originally pointed with a matching, tinted mortar and finished with black mortar with incised red lines. The dwelling's steeply-pitched, asphalt-shingled gable roof has slightly overhanging eaves with exposed rafter tails and is interrupted in front (south) by a small wall dormer to the right of the tower and in back (north) by a large, central gabled section.
Other than the placement of screens on the entrance porch and the replacement of the roof's original wood shingles with asphalt ones sometime after the University bought the property, the lodge's exterior has undergone relatively little change.
(Excerpted from Redstone Historic District National Register Nomination by Prof. Thomas Visser and Reid Larson, graduate student, UVM Historic Preservation Program)