History of Pomeroy Hall (7)

The Sanborn Fire Insurance Map from 1900 shows a greenhouse added to the south side of the barn behind the Experiment Station, and a two and a half story addition following the original roof line added to the east end of the barn.49
In 1904 Director Hill drafted a bill requesting funding for a new agricultural building to be named in honor of Senator Morrill. With the help of Representative George Aiken the bill was passed by the Vermont Legislature with an appropriation of $60,000. Upon the completion of Morrill Hall in 1907, the old Medical College building was vacated by the Experiment Station except for Professor Rich's research work carried on in the rear of the building. Sometime after 1907 the janitor of Morrill also used part of the first floor of the old Experiment Station for his residence.50 Eventually the old Experiment Station building was abandoned and fell into disrepair.51
When the Program in Home Economics was transferred to the College of Agriculture in 1917, it appears that the old Experiment Station building was considered for its new home.52 This was probably when undated plans by architect A. I. Lawrence for converting the Old Experiment Station into offices and classrooms for the Program of Home Economics were developed.53 These plans do not appear to have been carried out, however. Instead, the Home Economics department was initially housed in the basement of Morrill Hall.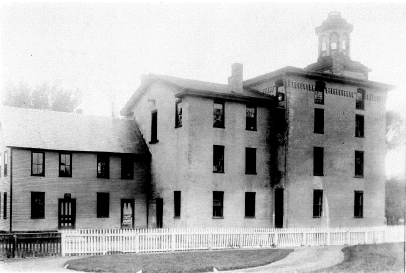 Looking west circa 1920.
Funding for the Experiment Station was increased when the Purnell Bill was passed by Congress in 1925. This legislation created a need for more space to accommodate the resulting increase in programs and staff. University President Guy Bailey asked Colonel George J. Holden to survey the condition of the Old Experiment Station to determine whether it was suitable for the needed space. Colonel Holden found the building to be unserviceable, but ultimately the decision was made to renovate the building. The interior of the building was thoroughly renovated, and a third window was added on the first story in the center of the east facade of the main block. Although the Purnell Bill funds were used to renovate the main structure, they were not used to renovate the cupola, which was removed.54
As Joseph Hills commented in his 1947 manuscript, "The University Buildings:"
Unfortunately, the 67-year old tower had to go, being leaky and generally in bad condition. Public funds could be used in a building renovation but not in restoring a portion of the edifice which had no relation whatsoever to research work; they could be used in making the roof tight but not in rebuilding the cupola. The building thus truncated is a homely affair, lacking the old time architectural finish, but what could one do?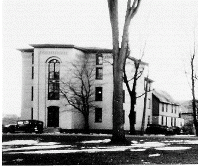 Circa 1930 view after the cupola was removed.
After the renovations were completed, the building was occupied by the department of Dairy Husbandry, with the office of Professor H. B. Ellenberger on the first floor.55 Later the department of Home Economics also occupied the building and it became referred to as the "Experiment Station Annex".56 The building remained relatively unchanged until it was damaged by a small fire in 1937. This started in a third story storage room and spread into some of the student dormitory rooms on the fourth floor.57