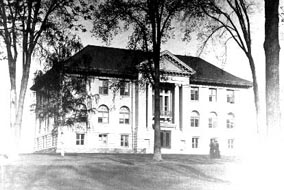 Morrill Hall
Morrill Hall was constructed in 1904-7 to serve as the home of the UVM Agriculture Department and the Agricultural Experiment Station. It was named for U. S. Senator Justin Smith Morrill of Strafford, Vermont, author of the 1862 Morrill Land Grant College Act that provided federal aid for public universities and land grant colleges across the country.
Before this large building could be constructed overlooki ng the southeast corner of the University Green, an earlier wooden house built in 1806 was moved from the site east to where it now stands at 590 Main Street.
Designed by the New York architect, C. W. Buckham, son of UVM president Matthew Buckham, Morrill Hall is built of buff brick with terra cotta enrichments above the random ashlar redstone raised foundation. Large polished granite Ionic columns flank the central pavilion on the front facade. The hipped roof with projecting flared eaves is clad with red terra cotta tiles.
Morrill Hall continues to serve as the home of the College of Agriculture and Life Sciences and the UVM Agricultural Extension Service. This property is listed on the National Register of Historic Places as a contributor to the University Green Historic District.