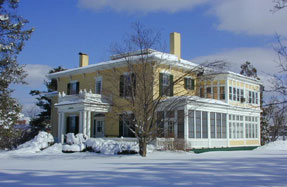 Clement House
This Italianate style house with Colonial Revival style additions at 194 South Prospect Street was built for Nathan S. Hill, treasurer of the University of Vermont in 1861.
Hill served as treasurer until he retired in 1881. He died ten years later and his wife, Mary, continued to reside here until she passed away in 1898.
From around 1910 the house was owned by Lillian and Foster Clement, a retired lawyer and banker. Soon after it was aquired by the Clements, they hired local architect Frank L. Austin to design the Colonial Revival style porches and veranda that were added to the front, south side and rear of the house.
Foster Clement died in 1933 and his second wife and Maruerite Prentiss Clement lived here until she sold it to the University of Vermont in 1967. The house was then converted into office space for the UVM undergraduate admissions department.