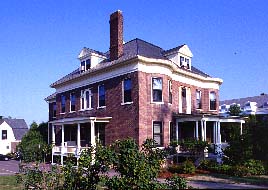 109 South Prospect Street
This large brick Colonial Revival style house was built in 1895 for Albert G. Peirce, a local merchant of farm machinery. Peirce acquired the lot at the corner of College Street and South Prospect which had earlier served as a garden space for UVM President Rev. John Wheeler and his wife, Mary Constance Wheeler who resided next door at 422 Main Street. (See Wheeler House.)
In 1918 the house was purchased by Frank Douglass Spaulding who ran a wholesale grocery company on the Burlington waterfront. The University of Vermont acquired the property after Spaulding died in 1958. The house was converted into offices with only minor changes to its beautiful interior. Originally the University used the building for the Alumni Office, Public Relations and the Development Fund. Today it houses offices of UVM Administrative and Facilities Services.
109 South Prospect Street has many distinctive architectural features, including three porches: the large wrap-around porch on the northeast corner, the side entrance porch on the south, and a small second story porch off one of the bedrooms on the north side.
Above the south porch is a Palladian window with stained glass that lights the main stairway inside. The interior is especially notable with its beautiful fireplaces and varnished carved woodwork.
This property is listed on the National Register of Historic Places as a contributor to the University Green Historic District.