CALS Student Representatives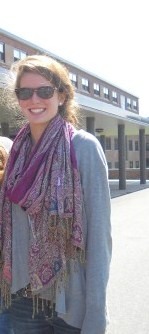 Taylor Goucher
Why did you choose UVM?
I chose UVM because they had an awesome animal science program and the atmosphere was very relaxed and friendly
Favorite aspect of CALS:
My favorite aspect of CALS is being a representative, and that there are older members that have taken the exact same classes and can give you advice.
What would you like to do afteryou graduate?
After I graduate I would like to attend Vet School
Favorite class at UVM:
My favorite class at UVM right now is General Chemistry, CHEM 031.
Favorite outside the classroom experience relating to CALS:
The satisfaction of helping others by being a CALS Rep.
Extracurricular Activities:
CALS Reps
Intramural volleyball

Last modified July 30 2012 04:18 PM