CALS Student Representatives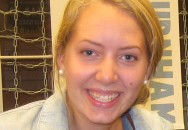 Izzy Cummings

Why did you choose UVM?
Favorite aspect of CALS:
I love that CALS has a wide range of classes from Green Building to Communication Law.
What would you like to do after you graduate?
After Graduation, it's my goal to open a mobile vendor of some sort and travel cross-country.
Favorite class at UVM:
Intro to Community Entrepreneurship (CDAE 166)
Favorite outside the classroom experience relating to CALS:
I always appreciate the endless support from advisors and professors.
Extra Curricular Activities:
Bored Team
Coordinator of Habitat for Humanity
Feel Good
Heath & Wellness Residential Learning Community
Last modified July 30 2012 01:58 PM