CALS Student Representatives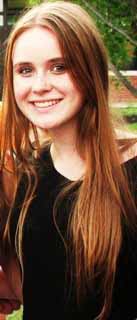 Emily Lester

Why did you choose UVM?
I fell in love with UVM the minute I walked onto the campus. I fell in love with Burlington and Church St. It is a perfect mix of urban and rural University. I am very connected with the environment and UVM provides this lifestyle to me in many aspects. Being surrounded by mountains sets UVM with a great vibe.
Favorite aspect of CALS:
I love the way of teaching CALS provides to the students, it is an intimate learning experience. Our professors unlike other schools get to know us on a personal level.
What would you like to do after you graduate?
I want to go into the event planning industry. My goal is to own an event planning/PR company.
Favorite Class at UVM:
CDAE 002- World Food, Population, and Sustainable Community Development. Professor Dan Baker is the best!
CDAE 14- Visual Design Studio
CDAE 15- Visual Communication
Favorite outside of the classroom experience relating to CALS:
Volunteering opportunities that are unique, fun and helps the community.
Extracurricular Activities:
CALS Reps, Ski and Snowboard Club
Last modified November 13 2013 04:15 PM