Writing for Field Naturalists and Ecological Planners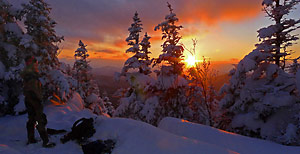 No scientist succeeds without the force of the written word. For a Field Naturalist or Ecological Planner, writing is a tool no less vital than a map or hand lens. In our Writing Program, we bring observations and ideas from field to page. Our foundation is "The Portfolio" – a suite of writing each student completes before graduation. Students generate The Portfolio from graduate coursework and related writing instruction and assignments over the course of four semesters.
Our curriculum begins with the essentials for descriptive, intelligent, persuasive writing. These include: exuberance for the subject, discovering detail outside, discipline at the keyboard, effective language and grammar, wisdom beyond the obvious and even breaking a few rules now and then. In our writing seminars, students read, write, discuss and edit great and lousy prose.
Beyond the essentials, the curriculum travels a determined path of professional writing – communications skills that help students wins grants, for example, or move the public to act. We write about bedrock geology and Blue-gray Gnatcatchers. We write news releases, literature reviews, opinion essays and feature-length non-fiction. We write to understand, think, inform, persuade and celebrate. And we write to succeed.
Our Approach
Writing is a feature of nearly every course in the Field Naturalist and Ecological Planning programs. Outside the classroom, students receive individual coaching and learn the habits of effective writers. Although we usually write alone, we often critique our work together and with respect. Beyond the usual motivations for writing – reflection, persuasion, expression, education – we recognize that good writing requires more than thought, words, and a deadline. Good writing also takes confidence, wisdom, and courage. It's what we nurture in the Field Naturalist and Ecological Planning programs.
The Portfolio
Over the course of four semesters, Field Naturalists and Ecological Planners produce a spectrum of writing that serves them in the field, in the classroom, in their own academic reflections, in their professions and at many other locations on life's long, green path. We call it The Portfolio. Its 12 elements include:
Journaling/Field Journaling
Free Writing/Critical Reflection
Grant/Fellowship Writing
Site Reviews
Project Proposals
Professional Reports/Deliverables
Technical/Scientific Paper Authorship
Web Content/Blogging/New Media
Newsletter Writing, Editing and Production
News Releases and Media Campaigns
Persuasive Writing
Popular Non-Fiction: Journalism, Features and Essays
Last modified August 21 2013 04:08 PM