Faculty - Bryan Pfeiffer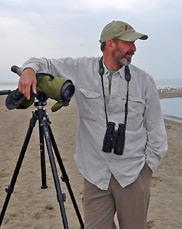 Bryan Pfeiffer
Writing Instructor

Contact Information:
Email:
bryan.pfeiffer@uvm.edu
Phone: (802) 454-4640
Office Hours: by appointment
A writer and field naturalist, Bryan Pfeiffer navigates the wild places where people and nature converge. Birds and insects drive a lot of Bryan's outdoor adventures. But in truth he finds pleasure in whatever swims, slithers, crawls, walks, hops, flies, sits, grows or decays along life's long, green path, which basically means Bryan is easily distracted. Just ask his students; Bryan teaches writing to field naturalists and ecologists at the University of Vermont.
On his journey toward nature and writing, Bryan began with a degree in chemistry and a passion for mountaineering, which led to his employment scaling Rust Belt smokestacks to measure (and inhale) air pollutants. From there, downward, with notions of saving the world, he discovered journalism.
Bryan's articles and essays have appeared in Orion, Aeon Magazine, The New York Times, Field & Stream, The Progressive, Eating Well, Northern Woodlands and lots of other places. He co-authored Birdwatching in Vermont, a guide to finding and enjoying the state's birds; co-hosted an award-winning radio program on birds; and wrote and hosted a public television special called Birding in Vermont. Along the way Bryan has been or still is a bread baker, a pot washer, a firefighter, a nature guide, a videographer, a mercenary writer, a beat reporter and a consulting biologist chasing birds and insects for municipalities, non-profits and private landowners.
Now at work on two books, Bryan is wrapping up a collection of essays called FLIGHT: A Year With Airborne Animals. Because he spends so much time outside, Bryan is making glacial progress on another book titled PANTALA: What a Dragonfly Tells Us About Sex, Evolution and the Human Condition. Find him online at www.bryanpfeiffer.com or behind a plate of eggs and homefries with friends at his favorite greasy-spoon diner.