Faculty - Bryan Pfeiffer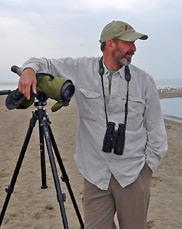 Bryan Pfeiffer navigates the wild places where people and nature converge. A writer and field biologist, Bryan explores and reports on the struggle for existence, the drama of life on Earth. If he can't escort you to enjoy what's outside, he'll convey it with photography and the elegance of the written word.
Birds and insects occupy much of Bryan's genetic code. But he becomes more content each day with whatever swims, slithers, crawls, walks, hops, flies, sits, grows or decays before him along life's long, green path. Bryan is easily distracted. Ask his students. He also teaches writing here at UVM in the Field Naturalist and Ecological Planning programs.
On his journey to nature and writing, Bryan began with a degree in chemistry and a passion for mountaineering, which led to employment scaling Rust Belt smokestacks to breathe and test their air pollutants. From there, downward, with notions of saving the world, he discovered journalism.
Bryan's articles and essays have appeared in Orion, The New York Times, Field & Stream, The Progressive, Northern Woodlands and lots of other places. He co-authored Birdwatching in Vermont, a guide to finding and enjoying the state's birds. Bryan has co-hosted an award-winning radio program on birds and wrote and hosted a public television special called Birding in Vermont. Along the way he's been a bread baker, a pot washer, a beat reporter and a consulting biologist chasing birds and insects for municipalities, non-profits, timber companies, private landowners and the state of Vermont.
Bryan is now at work on two books: a collection of essays and something called PANTALA: What a Dragonfly Tells Us About Sex, Evolution and the Human Condition. Find him online at www.bryanpfeiffer.com.