The Boulder Society
Members of 2015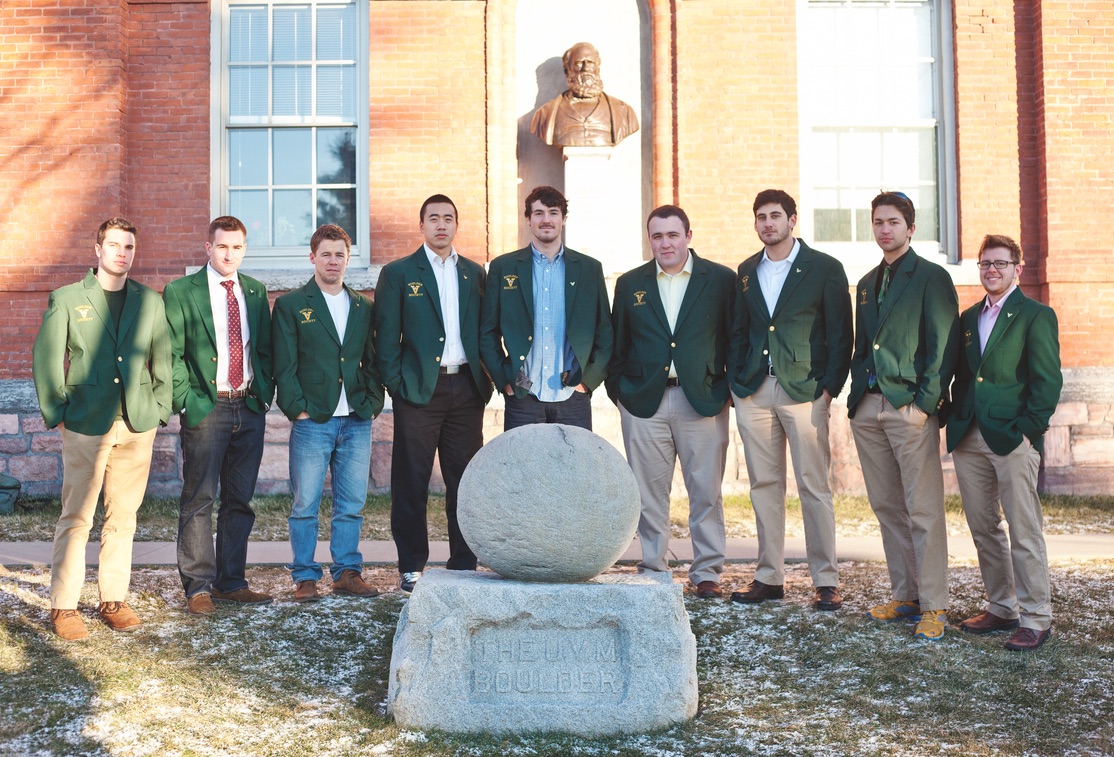 In addition to the qualities of scholarship, leadership and service that define all Boulder Society members, we would also like to be known by these words: the Boulder Class of 2015 will be involved, diverse, humble, full of school spirit, inspirational, inclusive and fun. We also want to emphasize our commitment to representing the undergraduate student body, a mission upon which the Boulder Society was founded.
Michael Barnum (Junior Link)
Major/Minor: Microbiology
Hometown: Virginia Beach, VA
Hobbies and Interests: Motocross, football, snowboarding, cliff jumping
Post-Grad Plans or Career Aspirations: Medical School
Activities: UVM Rescue (Director of Operations), Research in the Department of Pharmacology, Chemistry and Calculus Tutor, Honors College Student Advisory Group, CALS Reps.

Kyle Chu
Major/ Minor: Entrepreneurship and Management and the Environment. Minors in Economics and Environmental Studies
Hometown: South Burlington, VT
Hobbies and Interests:Sports, cooking, bowling, hanging out with friends, helping others, road biking
Post-Grad Plans or Career Aspirations:Running my own company down the road, work to improve the social and environmental aspects of companies while maintaining profit.
Activities: Division 1 Men's Track and Field, Chair of Student-Athlete Advisory Committee (SAAC), Member and ally in the LGBTQA group for Student-Athletes, Mentor in College for Every Student (CFES), Competed in Business Case Competitions, Mentor and liaison for Vermont Special Olympics, Member in SGA President's Advisory Committee.

Kevin Conlon
Major/ Minor: Political Science and Economics Minor: Accounting
Hometown: Weymouth, MA
Hobbies and Interests: Sports, Skiing, Cooking.
Post-Grad Plans or Career Aspirations: Master's of Accounting and a career in public accounting.
Activities: Student Government Association, UVM Program Board, AdvoCat Admissions Representative, Campus Programs Intern, Week of Welcome, UVM First Year Experience Committee, Teaching Assistant, Learning Co Op Subject Tutor.

Benjamin Daggett
Major/ Minor: Animal Science
Hometown: Litchfield, Maine
Hobbies and Interests: Running, reading, writing, Queen, gorillas
Post-Grad Plans or Career Aspirations: Veterinary School (DVM), Conservation work in the U.S. and Southern + Central Africa
Activities: Pre-Veterinary Club, Summer CREAM, CALS Reps, Pets Helping People/Northern Greyhound Adoptions, Round River Conservation Studies-Botswana (Study Abroad), Resident Advisor (2012-13), Tutor (Organic Chemistry, Animal Science)

Benjamin DeCarlo
Major/ Minor: Finance & Accounting
Hometown: Cresskill, NJ
Hobbies and Interests: Working out, football, baseball, poker, traveling, speaking Spanish, trying new foods, meeting new people
Post-Grad Plans or Career Aspirations: Work on Wall St.
Activities: Vice President of the Student Alumni, Treasurer & Co-Chair of DREAM mentoring program, Co-Founder of the SHORE community development organization, University Representative for the Beta Gamma Sigma Society
Kyle Heffrin
Major/ Minor: Political Science and Economics
Hometown: Marblehead, MA
Hobbies and Interests: Skiing, running, hiking, surfing, tennis, lacrosse and cooking
Post-Grad Plans or Career Aspirations: Law School
Activities: Commodore of the Pleon Yacht Club, Interfraternity Council Public Relations Chair, Senator on the Student Government Association Student Activities Committee, Research Analyst for Vermont Legislative Research Service, Analyst at National Strategies, Intern at Blue Horseshoe Capital Advisors and Intern for UVM Student Legal Services

Patrick Maguire
Major/ Minor: History & Political Science
Hometown: Essex Junction, VT
Hobbies and Interests: Reading, music, biking, skiing
Post-Grad Plans or Career Aspirations: Graduate work in history or a career in public service
Activities: Student Orientation Coordinator, Davis Center Building Manager, Senior Resident Advisor, Honors College, UVM Symphony Orchestra & Chamber Ensembles, FeelGood, Political Intern at Democracy for America, Alternative Spring Break 2013, Peer Note Taker

Ben Teasdale
Major/ Minor: Biochemistry
Hometown: Williston, VT
Hobbies and Interests: Rock & Ice Climbing, Fly Fishing, Drawing, Campfires, Music, Calvin & Hobbes, Quoting Forrest Gump
Post-Grad Plans or Career Aspirations: Global Health/Infectious Disease
Activities: MEDVIDA (President), Outing Club (Climbing leader, Certifications and Compliance Coordinator), Wilderness TREK leader, Premedical Enhancement Program (PEP), Pathology Research, Honors College

Henry Sinkula
Major/ Minor: Business Administration(Finance)/Economics
Hometown: Hinesburg, VT
Hobbies and Interests: Wakeboarding, snowboarding, exploring, traveling
Post-Grad Plans or Career Aspirations: Investment management
Activities: Internship in Burlington. Past: Student Government Association, Faculty Senate representative, Business Case Competitions

It is going to be a big year for us. The Boulder Society Class of 2015 is very excited not only about graduating in the spring, but about making our last year at UVM something that we'll remember for the rest of our lives.
Last modified April 07 2015 09:45 AM