The Boulder Society
Members of 2013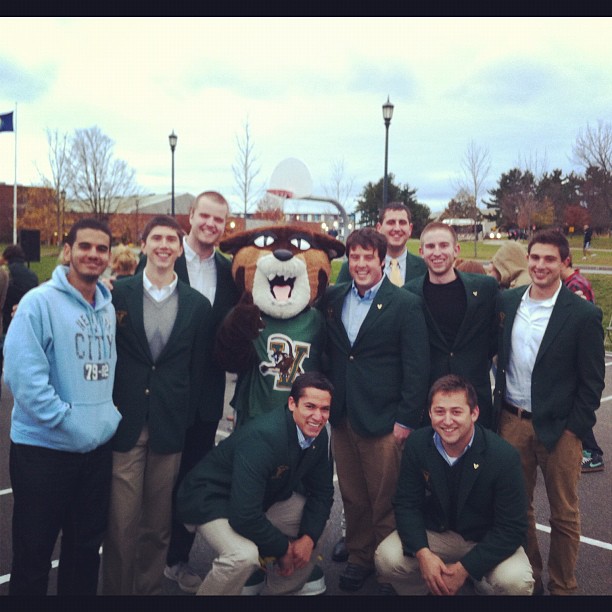 In addition to the qualities of scholarship, leadership and service that define all Boulder Society members, we would also like to be known by these words: the Boulder Class of 2013 will be involved, diverse, humble, full of school spirit, inspirational, inclusive and fun. We also want to emphasize our commitment to representing the undergraduate student body, a mission upon which the Boulder Society was founded.
Will Andreycak
Major/Minor: Political Science/History
Hometown: Pleasantville, NY
Post-Grad Plans or Career Aspirations: Work in the legal and/or political world
Activities: Student Legal Services Intern, Former Sports Editor of Vermont Cynic, Intern for Vermont Legislative Research Service, Kappa Sigma Fraternity
Tom Campbell(Vice President)
Major/ Minor: Philosophy (Ethics)/English
Hometown: Dover, NH
Post-Grad Plans or Career Aspirations:Teaching high school, then either pursuing a doctorate in philosophy to teach or business school to pursue ethical business.
Activities: Top Cats, HOPE Works Men's Education Intern, TA and Tutor for philosophy classes, former co-chair of SGA Academic Affairs Committee
Kyle DeVivo
Majors: Engineering Management and Business Administration
Hometown: Kensington, CT
Hobbies and Interests: Hockey, Football, Transportation Sustainability, Watching Sports, Playing Trumpet
Post-Grad Plans or Career Aspirations: Working in the transportation industry and getting an MBA.
Activities:Student Trustee on Board of Trustees, Kappa Sigma Fraternity, Captain of UVM Inline Hockey Club, Distributions Manager at Vermont Cynic
Jason Fish
Major/ Minor: TBA
Hometown: TBA
Post-Grad Plans or Career Aspirations:TBA
Activities: TBA

Max Hollman(President)
Majors: History and Economics
Hometown: Chevy Chase, MD
Hobbies and Interests: Piano, HBO, Scholarship, Washington Redskins, Skiing, Grilling, Traveling
Post-Grad Plans or Career Aspirations: Attend law school
Activities: Legal Services Intern, President of Colleges Against Cancer, Honors College, Advocat, Sigma Phi Epsilon Fraternity

Harrison Keyes(Secretary)
Majors: Biology and French
Hometown: Newton, MA
Post-Grad Plans or Career Aspirations: Medical school or allied health fields
Activities: SGA Student Activities Chair, UVM Adaptive Sports Volunteer Coordinator, Tri Beta Biological Honors Society Secretary, Campus Recreation

Dennis Mahoney(Junior Link)
Major/ Minor: Business Administration (Finance) and Marketing
Hometown: West Chester, PA
Post-Grad Plans or Career Aspirations: Pursue an MBA, eventually starting a business that works intensively with people.
Activities: UVM Trustee, Member of Student Advisory Committee to Dean of the Business School, Student Admission Representative, Serve Burlington Volunteer

David Manago
Major/ Minor: Environmental Studies and Business
Hometown: South Burlington, VT
Hobbies and Interests: Riding my road bike, going snowboarding/snowshoeing, DJ'ing on WRUV, watching football.
Post-Grad Plans or Career Aspirations: Starting my own green business, get an MBA in a few years, and work at the Googleplex in California
Activities: Davis Center Ecology Representative, Office of Sustainability Student Representative, active in the Entrepreneurship Club

Mohamed E. Metwally
Major/ Minor: Electrical Engineering
Hometown: Dubai, U.A.E.
Post-Grad Plans or Career Aspirations: Pursue research in nanotechnology joint medical fields, in particular stem cell growth. Perhaps pursue professorship. Aspire to impact my generation.
Activities: Adventure Traveling, Adrenaline Sports, Languages, Cultural Cuisine and Cooking, Swimming.

Benjamin Moody
Major/ Minor: Neuroscience
Hometown: Falmouth, ME
Hobbies and Interests: Skiing, reading, cycling, traveling
Post-Grad Plans or Career Aspirations: Attend medical school
Activities: research assistant in Department of Surgery, UVM Cycling Team, UVM Adaptive Sports, Office of Chief Medical Examiner Intern.

Dale Osef(Public Relations Chair)
Major/ Minor: English and Political Science
Hometown: Bay Head, NJ
Hobbies and Interests: Reading, Cooking, Traveling, Community Service, Time spent with friends.
Post-Grad Plans or Career Aspirations: Graduate School for a Master's in Public Communications. I hope to work in either network production, advertisement, or for a non-profit.
Activities: SGA Public Relations Chair, SGA Speaker, Campus Tour Guide, UVM Green Caps Founder, Member of Student Success & Satisfaction Committee, SGA Campus Advisory on Safety and Health Vice Chair

Brent Reader
Major/ Minor: Social Work and Anthropology (Archaeological Anthropology)
Hometown: Highgate Falls, VT
Hobbies and Interests: Learning new languages, the Army, Combat Medicine, hunting, guns, fishing, camping, the outdoors, (and other very Vermont things, etc.)
Post-Grad Plans or Career Aspirations: Attending UVM's Master's Degree in Social Work program, pursuing a Ph.D. in Public Policy or Public Administration, counseling veterans at the Department of Veterans' Affairs, a professorship in the Social Work Department at UVM, advocating for and writing efficacious veterans policy at the state and national level.
Activities: Husband, father of four daughters, Abenaki Nation Tribal Member, one of six speakers left of the Western Abenaki Language in the world,  Spokesman for the St. Francis/Sokoki Band of the Abenaki Nation of Missisquoi, Executive Board of Abenaki Self-Help Association, Inc. (ASHAI) Member, which spearheads all social service provision for the Abenaki Nation, Phi Alpha National Honor Society of Social Work Member, Pi Gamma Mu International Honor Society of Social Sciences Member, State of Vermont's 2012 Truman Scholarship Recipient, Social Work Intern at the Behavioral Therapy and Psychotherapy Center at UVM, providing case management and clinical social work for refugee survivors of torture and trauma.

Rob Rudy
Major/ Minor: Microbiology
Hometown: Palo Alto, California
Hobbies and Interests: Traveling, Snowboarding, Running, and Cooking.
Post-Grad Plans or Career Aspirations: I am interesting in pursuing degrees in medicine and public health followed by a career working to improve the health of underserved communities in the United States and across the world.
Activities: Undergraduate research in the Department of Pharmacology, Supplemental Instructor for Organic Chemistry, Pre-Medical Enhancement Program, Pre-Medical Peer Mentor, Honors College, Tri-Beta Biological Honors Society

Dan Suder(Historian)
Major/ Minor: Philosophy and Russian & Eastern European Studies
Hometown: Jericho, VT
Hobbies and Interests: Listening to music and badly singing along, movies, books, winning things, racquetball, biking, food and drinks, writing.
Post-Grad Plans or Career Aspirations: Moving somewhere new and getting a job, before eventually pursuing graduate school for higher education and student affairs.
Activities: UVM Student Orientation Coordinator, Volunteer and Former Coordinator for Vermont Children's Magazine, Writer and Former Editor-in-Chief of the Water Tower News, Honors College
It is going to be a big year for us and we're all very excited, not only about graduating in the spring, but about making our last year at UVM something that we'll remember for the rest of our lives.
Last modified January 29 2013 04:09 PM