WAgN Calendar
Friday, September 6, 2013
Introduction to Biodiesel
Time: 8:30 a.m. to 5:00 p.m.
Location: Randolph, VT
Description: September 6 & 7, 8:30 to 5pm
Any diesel engine on the road today can use biodiesel fuel. This two-day course, designed for those seriously interested about biodiesel fuel, will describe engine systems, biodiesel blends, and biodiesel production. The ASTM D6751 standards will be discussed in great detail, as will the benefits and drawbacks of biodiesel technology. This course includes a demonstration of fuel-making equipment. It is designed for professional technicians, automotive and farming students, instructors, farmers, fleet drivers and managers.
To register visit the Vermont Tech: greentrainings.vtc.edu/biodiesel.html?utm_source=GRT+ENote+GIS%2FBiodiesel%2FNatGas%2FWetlands+7.11.2013&utm_campaign=7.16.13&utm_medium=email

Cost: Free
Sunday, September 8, 2013
Growing Places Early Registration Deadline
Time: 8:00 a.m. to 5:00 p.m.
Location: White River Jct & Burlington, VT
Description: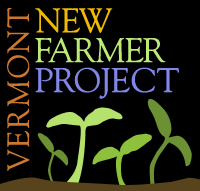 Growing Places for aspiring and start-up farmers

Where: White River Junction & Burlington, VT
When: 5:30-8:30 pm, Oct. 8, 15, 22, & 29, 2013
Cost: $110-$150. Financial assistance is available for qualified applicants.

This four session course introduces new farmers to important topics, resources and services integral to getting their farm started off right. Early Registration deadline is September 8, 2013. Registration is open through September 22, 2013. Growing Places is also offered as an online course in January, 2014. Visit www.uvm.edu/newfarmer and click on "Classes" for more information, or contact Jessie Schmidt at newfarmer@uvm.edu or (802) 223-2389 x203.

To request a disability-related accommodation to participate, contact Jessie Schmidt at (802) 223-2389, ext. 203, or (866) 860-1382 (toll-free in Vermont) by Sept. 22 for the fall offering.

Tuesday, September 10, 2013
Wednesday, September 11, 2013
Cooking Class - Mother Sauces
Time: 5:00 p.m. to 6:00 p.m.
Location: Hardwick, VT
Description: Cooking Class - Mother Sauces
To Register go to: mothersauces101.eventbrite.com/

Late Summer Wild Plant Walk
Time: 5:00 p.m. to 6:30 p.m.
Location: Woodbury, VT
Description: This plant walk with Annie McCleary will leave from Wisdom of the Herbs School. Cost: $0-$10. Pre-registration with phone number requested. For directions and more information: www.wisdomoftheherbsschool.com/location.html
Thursday, September 12, 2013
UVM Food Systems Fall Speaker Series
Time: 3:30 p.m. to 5:00 p.m.
Location: Burlington, VT
Description: Livak Ballroom, Davis Center, UVM Campus
Farmers Markets, Food Justice and the Green Economy
Alison Alkon, Sociology, University of the Pacific
Alison Alkon is a sociologist interested in food, environmental issues and inequalities of race, class and gender. She is Assistant Professor in the Department of Sociology at the University of the Pacific. She has published numerous articles on food, race and environmental justice. She has also published two books: Cultivating Food Justice and her newest, Black, White and Green: Farmers Markets, Race and the Green Economy, which examines the environmental and racial politics of farmers markets.

Building Your Food Brand
Time: 6:00 p.m. to 7:00 p.m.
Location: Hardwick, VT
Description: Center for an Agricultural Economy & Vermont Food Ventrue Center Present:
4 focused sessions Presented by Nicole Fenton and Steve Redmond of Skillet Design
Session 1 Who is your market? Before you launch your food product or a line extension you need to determine who will buy it and for how much they'll pay! 5 tips for simple market research to help you launch your product.