Early Registration Deadline: Building a Sustainable Business
Time: 9:00 a.m. to 10:00 a.m.
Location: Berlin, Springfield & St. Albans
Description: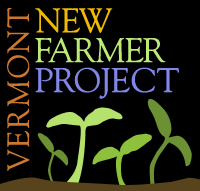 Dates: Dec. 4, 11, 18, 2013 & Jan. 8, 15, 22 (plus Jan.29 reserved for snowdate) Time: 1-4 pm

The Building a Sustainable Business course guides participants through developing a business plan for farms businesses. People who have completed Growing Places and/or who have at least one year of production/financial records of their own will find this course most useful.

Based on a business planning guide developed by the Minnesota Institute for Sustainable Agriculture (MISA) and co-published with the USDA Sustainable Agriculture Research and Education (SARE) program, this course will assist today's alternative and traditional business owners alike with the creation of a holistic business plan rooted firmly in personal, community, economic and environmental values. With a business plan in hand, today's farmer entrepreneurs will be able to take that first step toward the creation of a successful and sustainable business.

Classes will be offered simultaneously in multiple locations in Vermont, with an on-site instructor at each location. Registration discounts are available for people who have completed Growing Places and who register by the early registration deadline. Cost: $165 early registration, $210 until Nov. 22. For more information, visit-- www.uvm.edu/newfarmer/?Page=classes/basb.html&SM=classes/sub-menu.html.

Scholarship and Financial Aid information: Financial aid is available for eligible individuals. At the end of the registration form, you can make a request for financial aid.

UVM Extension helps individuals and communities put research-based knowledge to work.

University of Vermont Extension, and U.S. Department of Agriculture, cooperating, offer education and employment to everyone without regard to race, color, national origin, gender, religion, age, disability, political beliefs, sexual orientation, and marital or familial status.

To request a disability-related accommodation to participate in this program, please contact Jessie Schmidt at 802-223-2389 by November 15, 2013 so we may assist you.