A Clean, Peaceful Home
May Be Just a Spin Away
Tory Dietel Hopps '85 & Jennifer R. Nolan '86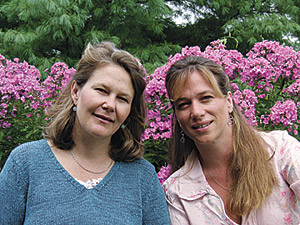 photo by Hunter Nolan
Necessity — you've met her, the "mother of invention" — came knocking at fellow mother Jennifer Nolan's door in September 2001 in the form of a herniated disk in her back. Accustomed to long bike treks and the occasional back flip, the chronic pain and need to slow the pace was a tough blow for the active mother of four sons.

Even in the best circumstances, every parent knows the challenge of getting the kids to help around the house without stirring up so much wailing and gnashing of teeth that it's scarcely worth the effort. But taking on the chores herself simply wasn't an option when Nolan's back locked up. And she didn't have the time or the tolerance for debate over who would do what and for how long. "I needed things done. That was the impetus," she says.

The impetus, she explains, to find a better way, a fair way — dare we say it? maybe even a fun way — to get the kids to dig in and help out while mom was down. Nolan went to the drawing board and the work bench. With inspired bits of repurposing, including an old archery target and the pole off a little souvenier flag, she cobbled together a sort of "Wheel of Fortune" of housekeeping. Wedges around the perimeter specified various chores and rewards, and the rules were simple. Give it a spin to find your chore. Spin again for your reward.

It worked. Her kids bought into the system.

And four years later? "To my amazement, they're still into it," Nolan says. Even early on, Nolan felt she was onto something. She enlisted the help of UVM friend and fellow greater Portland, Maine resident Tory Dietel Hopps '85 to explore bringing the activity book/game Spintastik Family to market. Two years in the process, Spintastik is on sale this fall through Ronnie Sellers Productions (makefun.com) and will be available through Amazon.com, Barnes & Noble, and other outlets.

During a phone interview, Nolan and Hopps bounce off each other with the sense of humor they credit as a central bond of their friendship. The pair also share like-minded views on everything from parenting to politics; that includes a great enthusiasm for Spintastik and all it can do to keep the peace in homes and teach kids a work ethic.

Hopps and family were Nolan's first converts to the way of spinning for chores. (They still use it weekly at the critical "Wow, this house is out of control!" moment.) Hopps says that giving kids a greater sense of ownership over their chores and softening the parent's role as hard-hearted messenger unjustly dealing out tasks is key to making it work. "There's an immediate sense of justice," Hopps says. "You get what you get."
Best of all is when the kids' motivation to help out starts to become intrinsic. Hopps recalls a recent day when she pulled up in the driveway with a carload of groceries and — with neither spin nor request — her two children came out to help unload. "They get that being helpful is not the worst thing," Hopps says. "And it actually makes mom a little nicer."

—TW