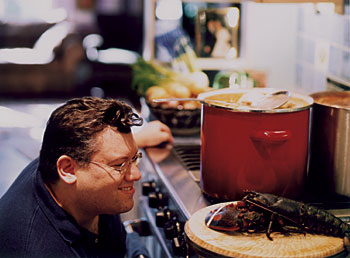 photo by Emily Nathan
For Every Dish a Story
Hunger for knowledge (and just plain hunger)
have driven Steven Shaw's career leap
from litigator to food journalist
By Kevin Foley
Steven Shaw '91 opens the door of his Manhattan apartment and almost immediately hustles back to the stove to check his bubbling pot of potatoes. The mushrooms are sliced, the Parmesan grated, but his visitor's gift of farmstead Vermont cheese has him thinking. He peels off a sliver with a paring knife, sniffs, and chews thoughtfully: "This will work." Our meal — a teacup layered with cheese, sautéed mushrooms, mashed potatoes with a just-cooked egg nestled on top — is taking shape.

It is 9:27 a.m.

To be fair, spending the morning cooking dinner food was my idea. But honestly, it didn't take any prodding. Shaw, whose nom de Internet is "The Fat Guy," made his passion his profession, dropping a flush career as a litigator to become a food writer and, he writes in his first book Turning The Tables: Restaurants from the Inside Out, "subsidize a restaurant addiction." It's done more than that. With uncommon intelligence, rigor and wit, Shaw transformed a hobby into a solid niche in one of the more glamorous and competitive journalistic arenas, enjoying an envy-inspiring number of comped $300 meals in the process.

But even as his audience and opportunities enlarge, Shaw remains a populist (albeit demanding) gourmand. He's equally comfortable with a glistening carton of Al's French Frys as he is a seven-course procession of four-star French. Shaw loves truffles, but his ur food is bacon — or maybe fish-and-chips. Shaw's food criticism, like his taste, is wide-ranging and provocative, whether he is systematically demolishing the ubiquitous Zagat restaurant ratings for the Jewish intellectual journal Commentary or offhandedly observing that McDonald's fries match the frites at trendy Balthazar, but also sympathetic to the difficulties chefs and restaurateurs face. Diners, too. His book aims to take the mystery out of restaurants and help readers get the most enjoyment for their money.

eGullet, the rollicking 20,000-member food discussion community Shaw co-founded in 2001, lets top-shelf chefs, Food Network personalities, writers, and regular folks freely exchange tips and barbs. The interplay makes eGullet both a time sink of continental proportions and the single best place on the Internet to find out what and where to eat. Shaw is at the center of a shocking number of discussions; to date, he has contributed 17,910 all-hours discussion posts. Taken collectively, they display a bottomless appetite and an almost comical range of erudition: A few of the subjects Shaw is, or at least sounds, authoritative on include the Magnuson-Moss Act, Chinese black vinegar, lox-freezing technique, bird's beak paring knives, and veal butchery.

SOMETHING MAGICAL
Right now, off-line, the potatoes are almost done, and Shaw is dancing around his alley kitchen, pulling herbs from the fridge and trashing a wrapper with a smooth pirouette over his beloved bulldog's water bowl, holding forth the whole time.

The teacup appetizer, he explains, is his amalgam of two haute restaurant dishes: a layering of root vegetable puree, white truffle, and egg from Alain Ducasse and a haunting mushroom sauce by Jean-Georges Vongerichten. He wants to suggest the complex voluptuousness of the original dishes — but without the $50 miniature cast-iron serving casseroles and fancy ingredients. (The sad truth of food writing is that it provides a basically nonexistent truffle budget.) But even the less-than-glam, a.m. version of the dish has a story; with Shaw, there's always a story.

"After the meal, Jean-Georges starting telling me about this special wine that they cook the mushrooms with," Shaw says. Intrigued, he pressed the chef for its name. "He was telling me, 'no, no you can't buy it, they don't import it. There isn't even an English name," Shaw says. "And I was saying, but what is it, can I see the bottle?"

So the chef took him back to the kitchen and produced a bottle of Juran vin jaune, and Shaw had to laugh. Eight years earlier, he and his wife Ellen Shapiro, also a writer and a 1991 UVM graduate, had taken a trip to France and gotten lost in the remote northern countryside. They found a farm restaurant where the proprietors regaled them with directions and lunch. They left with a few bottles of wine, one of which they opened with great fanfare back at home. "The stuff was horrible!" Shaw recalls. "I thought they ripped us off and we put the rest away and forgot about it."

But once Shaw discovered that the wine — which smells like a weird combination of sherry and plonk Chardonnay — does something magical to mushrooms, he uncorked the dusty bottle and froze the contents into ice cubes to be dispensed like pharmaceuticals, one by one. Perfecting a downmarket but still-exquisite take on the restaurant dishes requires more than wine, though. In his quest to master the teacups for dinner parties, Shaw's experiments through multiple cooking iterations encompassed the proper cooking and serving vessels, temperature and timing, the order of ingredient strata, the logistics of removing cups from a crowded bath of boiling water (hint: not with hands), and how to suggest the savor of the truffles without paying $100 an ounce (enter the Parmesan, which Shaw says is rich in the chemicals that produce the mouth-filling, savory flavor umami, which the Japanese consider the fifth basic taste, after sweet, bitter, salty, and sour.)

All this is for an appetizer.

LEAVING THE LAW
So, yes, Shaw is compulsive — his word, a self-diagnosis he offers with a big laugh — about things that interest him, and cooking and especially restaurants interest him enormously. But he has a rare ability to direct that reflexive curiosity, putting the food-geek trivia he relentlessly gathers (the intricate details of how a restaurant books reservations, say) into useful non-geek context (what those details reveal about the restaurant's sensibilities and how understanding them can help nab a prime-time table).

That drive is at the center of Turning the Tables, which attempts to explain restaurants in 240 pages. Shaw wants to demystify everything: how the food is grown, purchased, cooked, served, priced, and reviewed; how the business is managed, decorated, promoted, and operated; and how customers can get the table, meal, or sushi they want. He also throws in commentary about the future of restaurants, food criticism, and more. For a writer with less intelligence, energy, and humor, the book would be a sodden mess; instead it's fun, helpful and has enough heft that the New Yorker included it pre-publication in a survey of contemporary food criticism.

"Turning the Tables is in many ways my answer to Kitchen Confidential," Shaw says, referring to the biting bestseller by Tony Bourdain that reveled in shocking tales of bacteria bubbling in hollandaise sauce, forlorn Monday fish specials, and untoward use of supply closets. "My book is a celebration of restaurants."

Shaw's acquaintance with restaurants began in childhood, as he and his father, Peter Shaw, a prominent literature professor and social critic, made the rounds of New York's delis, diners, and Chinese places. The elder Shaw, whom his son writes "analyzed menus with the same intellectual rigor he applied to the great books," was his son's guide, teacher and co-conspirator, the kind of man who had diner dishes named after him and ceremoniously offered favored waiters special tips at the holidays. (Shaw's mother, an intellectual and a superb cook, was his first cooking instructor.) The food they ate and discussed together was simple, but deeply influential.

"You know how a person and cow are separated by only a few genes?" he says. "It's like that with restaurants. Every restaurant is the same species, it's just that there are a few little genetic things that differentiate a fancy French restaurant from a diner."

Shaw's culinary education accelerated during law school, when he made a fortuitous discovery about a computerized matching system that arranged student interviews with law firms. Shaw got the offer he wanted (from Cravath) during his first meeting, but he didn't stop interviewing. "When I found out that every interview consists of getting taken out to lunch at a fancy restaurant… I went to all 50," he says. Between the 50 free lunches and an expense-account tour of restaurants citywide as a young lawyer, Shaw rapidly developed a sophisticated culinary knowledge.

But apart from the shining glory of lunch time, life as a 3,000-billing-hour litigation associate at a white-shoe firm leaves a lot to be desired — if you're interested in living life, anyway. The first danger sign came the day after his honeymoon, when Shaw received a 6 a.m. call with a seven-week assignment in Delaware. Things got worse from there, and when his father died a year later, Shaw dwelled on how his work had separated him from his loved ones.

"In my recalculation of the meaning of life after the death of my father, which sounds very straightforward but in fact took me a long time to even figure out what I was doing, even though it was obvious to everybody else, I started thinking about the long term," Shaw says.
"And the thing about litigation, as a young guy, it was a lot of fun, it was a testosterone rush. I've never competed much in sports, so for me it was like a sport. But if you stayed with it, you would be doing it until you were 65 years old. You don't grow out of it, you grow into more of it." He was out of Cravath and into a smaller law firm in months.

While he worked as a litigator, Shaw had simultaneously begun writing food essays and reviews. When he struck out with the mainstream media, he began publishing himself on the Internet, launching www.shaw-review.com in early 1998. The site attracted an audience, slowly at first and then instantly when The New York Times praised the "200 reviews and opinions about every bite" and generated a surge of traffic his Web host initially confused with a hacker's attack. Shaw fed on the attention and used his growing name-recongition in the New York restaurant world to grab new opportunities to learn.

"Part of my compulsive personality is that I have this thirst for information… I want to know everything there is to know about a particular discipline," he explains. "I just got more and more into food and it has constantly fed on itself and never stopped. When it got to the point where as a lawyer I had eaten at all the top restaurants many times and I had that set of knowledge, I started working in kitchens and hanging out with chefs and getting behind the scenes because I kept wanting to learn."

FAT GUY UNLEASHED
Professor Richard Sugarman, Shaw's UVM academic mentor, sometime landlord, and friend, remembers that curiosity well, and sees it as only one college thread evident in his current career. As a student, Shaw pursued a self-designed major in Judaic studies to spend as much time as possible in one-on-one tutorials with his professors, especially Sugarman and famed Holocaust historian Raul Hilberg. Sugarman remembers Shaw as both a generous teacher and an argumentative former champion debater at Stuyvesant High School (he also debated in Vermont for two years), qualities still evident in Shaw's writing. The professor says he sees another connection between then and now: "He has an extraordinarily adventuresome mind, he is insatiably inquisitive but with a practical bent."

That curiosity, and its expression in Shaw's part-time, after-hours Web writing, began leading to paying gigs, including a 1999 polemic in the online magazine Salon titled "Fat Guys Kick Ass." The piece — which begins, "I'm a fat guy — always have been. I'm not 'big-boned'… I don't 'carry it well,'" — inspired a huge response from readers, most directed to "Dear Fat Guy." Shaw now had a moniker and a sense of moment. Meanwhile, life at the new firm was much like life at the old one, except less interesting. He quit.

Six years later, Shaw still worries about the rent but is beginning to come into his own, publishing his first book, and selling his second, the humorous The Fat Guy's Manifatso. He hopes to continue like that for a while, alternating serious projects with humorous ones and continuing the transformation of the eGullet site from a forum into a nonprofit public charity advancing the culinary arts with detailed online classes and offline scholarships. Maybe he will collaborate more with wife Ellen Shapiro, a professional photographer and author of four books.

As he extends his professional range, though, Shaw says he'll never leave restaurants behind. For him, they are microcosms of culture, places where urban people go to play out little dramas of romance, status, social interaction, and politics. He doesn't see getting bored by those multiple dimensions, or the constant struggle to capture them in well-chosen words.

"It's an interesting challenge to write about restaurants and food," he says. "It's very different from reviewing books, where you're writing words about words: writing about food is uniquely challenging because you can't actually communicate taste in words. Everything is symbolic and metaphoric, and meanwhile you have to tell a story that is interesting to people. It's hard, and I like that."

BACK TO THE TABLE
Our appetizers are almost finished. Shaw divots the layer of mashed potatoes he has spooned into the cups with his thumb and slips an egg into each indentation. He loads the cups into a pot of simmering water, covers it, and reduces some chives into green confetti with a few swipes. When the eggs are almost set, he tosses the chives on late so they soften but still look and taste bright.

At the table — finally — a tap of the fork releases the egg yolk, covering the potatoes in a velvety saffron wave. Richness envelops richness, egg mingles with earthy potato, and underlying everything are the mushrooms, their meaty taste mysteriously amplified by the funky wine. The cheese is back there somewhere, adding its tang to the mélange. Three bucks worth of ingredients, hours of skilled experimentation and a great anecdote combine into something delicious and resonant.

We eat silently. The story is told, a whole world in a teacup.
How to Dine and Why
Riding the bus with Steven Shaw to — where else — a restaurant, I ask him why a person should consider spending a couple hundred bucks or more on a meal. He answers immediately: "Because it will give you perspective on everything else you eat."

Shaw argues that a four-star meal costs less than Super Bowl tickets and football, unlike the meal, is better enjoyed on TV. "The meal costs far less than any similarly coveted cultural event," he says. "So eat the dinner and watch the game." But getting a great dinner doesn't require a two-Benjamin outlay. Shaw offers these tips for getting the most for any dining dollar:

Try lunch. Many famous restaurants are quite reasonable for lunch, especially if you save alcohol for later. "You can go to Jean-Georges and have lunch – it's now $32 for two courses and dessert, less than $50," he says. "A cab driver can afford that lunch, and some of them, I've found, do."

Look for spin-offs. High-end restaurants are often affiliated with lower-priced cafes. The room and food is less fancy, but eating at the café often means getting the same raw ingredients and talented staff for a substantial discount.

Do research. Newspaper food sections, books like the Zagat Guides and specialized culinary sites like www.egullet.com and www.chowhound.com offer opinionated takes on an area's restaurants. Search engines are well-suited to finding more out about a specific restaurant. Don't neglect human sources, either. When a car breakdown trapped him in Utah over a long weekend, Shaw became a reluctant Olive Garden regular. Through friendly chats with the staff (and a focus on bread sticks), Shaw was able to divine the Italian chain's best dishes, and avoid its worst.

Become a regular and cultivate the staff. Curiosity, basic manners and informed enthusiasm for the food can open a relationship with a restaurant that will make dining there more rewarding. Some places – like one of Shaw's college haunts, a Chinese place in a converted KFC on Shelburne Road – will even tailor their stock dishes to your expectations if they respect you. "If you love restaurants for the right reasons," Shaw writes, "they will love you back."