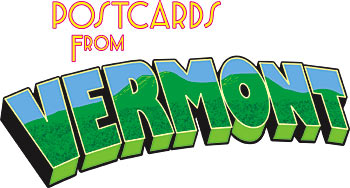 stories and photos by
Kevin Foley, Jon Reidel,
Thomas Weaver, Elise Whittemore-Hill
At last count, some 26,394 UVM alumni call Vermont home.
This summer, we hit the interstate, the two-lanes, the dirt roads,
and the wilderness trails for a glimpse of the diverse ways
our alumni make their lives in the Green Mountain State.
INN BUSINESS
Wilhelmina Smith G'79 settles into a green chair on the Highland Lodge's graceful wraparound porch. In the background, arpeggios echo from the inn's grand piano. In the foreground, flowers glow in mid-August bloom with a backdrop of trees and a hint of Lake Caspian shimmering in the distance.

Smith is bemused by her posture. "I never do this," she says. "Innkeepers don't sit out here."

What innkeepers do do is work seven days a week during the season, keeping books, scheduling staff, maintaining a well-used lodge wracked by brutal winters, and, most of all, making people feel welcome. Smith has a well-honed knack for this, quickly singling out stressed guests requiring special care. "I love turnarounds," she says. "It's a challenge."

The lodge has no cell service, televisions, nightlife, or shopping. Wireless Internet started recently, but Smith is ready to pull the plug at any time if laptops become prevalent. A simple life this isn't, however. The tourism season is short, the tasks many, the financial cushion thin. But Smith, who runs the lodge with her husband, David, whose family has owned the lodge since 1954, is deeply attached to the Highland and the area. Since leaving her job teaching science at Burlington High School (her UVM degree is in teaching biology) she has become a civic fixture in Greensboro, presiding over the local historical society and crusading for zoning regulations to limit McMansions.

The place is special, she says, it gets to you. "We decided that we would try it out for a while and see if we liked it," she continues, explaining how she and her husband first agreed to run the lodge temporarily as a favor to his parents. "That was 26 years ago." KF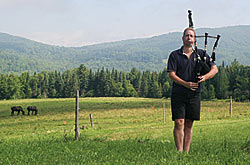 FOLLOW THE PIPER
A bagpiper needs some space. Iain MacHarg '96 G'97, a self-described "outdoorsy" kind of guy who grew up in South Royalton, Vermont, and his wife, Jen G'01, and one-year-old daughter, Aileen, are at home in the rural reaches between Marshfield and Groton State Forest.

But as MacHarg warms up on the Highland bagpipes in his home teaching studio, another reason why country life suits him quickly becomes evident. The potent volume seems a natural force, a near palpable thing. "In Burlington," MacHarg says, "the upstairs neighbors were never too keen on blasting the pipes in the afternoon."

The neighbors may have had their moments, but plenty were happy to hear MacHarg's pipes during his student years in Burlington. Together with a circle of UVM friends, he formed Whiskey Before Breakfast, a popular band in the kilt-rock genre. "People ate it up," MacHarg says. He's continued to explore the particular glory of bagpipe and electric guitar through Prydein, his band with fellow WBB original Aron Garceau '96.

Post-UVM, much of MacHarg's focus has been on growing his Vermont Institute of Piping, which is now some 90 students strong, many of whom perform with the Catamount Pipe Band, one of the top groups of its kind in the eastern United States.

MacHarg himself comes from a long line of pipers, including his father, Michael, a well-known maker of hand-crafted bagpipes. As he helps to spread the music of bagpipes across Vermont, being a piper is an inevitable part of Iain MacHarg's own life. "I think it's all wrapped up in how I grew up with the music," he says. "I love the harmonics. It's a rich, warm, wonderful sound." TW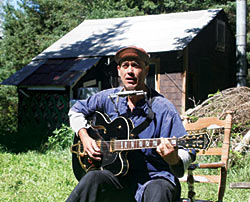 VERMONT TO LAOS
Derrick Semler '71 lives simply for a cause. It's a steep climb on a dirt road to get to his one-room, off-the-grid cabin on Mt. Cahill in central Vermont. There's room enough for a sleeping loft upstairs; downstairs there's a bed, dresser, guitar. The woodstove is made from an old propane tank; a metal tractor seat sits inside it to holds his pans for cooking.

"I'm not trying to save the environment, but if I keep the bills down to a minimum I can send that money to Laos," Semler says. Long a familiar face on the Vermont folk-rock scene, Semler spends a month in Laos annually, working with high school students suffering from blindness, polio, or amputation from land mine accidents. He also directs the Music Laos Project (musiclaos.org), a music therapy and education program at the Vientiane Rehabilitation Center.

His interest in Laos traces to when Semler met Hisayo Morikawa, assistant manager at the Vientiane rehab center, when he played a gig in Maine. "She asked me to come play in Laos, some people there had never heard western-style guitar before," Semler recalls. "I sent her a check to try to get out of it." She sent him back a picture of the kids holding their first books bought with Semler's check and another request for him to visit.

"I realized I had to take a risk. The Iraq war had just started, my partner had recovered from the loss of her arm, and this was a chance to go to a national rehab center and work with amputees," Semler says. The musician's commitment to Laos has deepened since making that first leap, driving him to keep it simple over here to make a difference on the other side of the world. EWH
WINDOW WORK
When Andy Keeffe '89 looks back to his days as a UVM business major, he recalls his professors hammering home lessons about the all-important niche. "I knew that I'd start my own business someday," Keeffe says, "but I needed to wait to learn enough to take that first step." Post-UVM, while working for a door and sash company in the Burlington area, Keeffe considered the dominance of the Midwest-based giants of the window industry and detected a niche — the opportunity for a smaller, service-friendly manufacturer.

Green Mountain Windows had classic, humble Vermont business beginnings — three guys making windows in an old barn in the woods of Whiting. But it has grown swiftly — from three employees to 30, from that incubator barn to 40,000-square-feet in a Rutland industrial park. And business is good, with sales up 50% last year and plans on the table to double sales within the next three years. Keeffe and company have built on a core product of highest-quality, custom wood-frame windows constructed to fit both the climate and architectural aesthetic of New England.

As he walks the factory floor on an August morning, Keeffe consider how his role has changed from the early "do or die" days when he could work any piece of machinery, design in AutoCad, or drive the truck. Sales forecasts, marketing strategies, human resources, and keeping a foot in the day-to-day takes Keeffe many directions as president. "No two days are alike," he says.

Keeffe pats a stack of completed windows and mentions, with more than a trace of nostalgia, the rewards of such tangible evidence of a day's work. He smiles and says, "You have to learn to deal with delayed gratification." TW
TURNING PAGES
Aconversation with Bonnie Christensen is breathless, funny, and immediately comfortable, much like her art and book-filled home. Fine art prints, kids' paintings, sculptures, masks, and a large original painting by Clement Hurd (of Good Night Moon fame) live side by side with shelves crammed with an eclectic mix of books.

Christensen '73 is an accomplished and versatile printmaker, but is especially well known to a certain age group as a children's book author and illustrator. The Daring Nelly Bly; Woody Guthrie: Poet of the People; and Moon over Tennessee: A Boy's Civil War Journal, have all brought history alive for many schoolchildren.

Early on in her career, while working at the Shelburne Museum letterpress shop, she was inspired to make a book for her daughter, Emily. "Everyone wants to make a baby book," Christensen says. Maybe, but not everyone creates one with original poetry, wood engravings, and hand-set type. The exquisite result didn't get published but did capture the attention of an editor who hired Christensen to illustrate Breaking Into Print, a history of the printing press.

To show how she approaches a new book, the author/illustrator spreads a sketched-out manuscript on the floor of her studio/bedroom. "I like to think in terms of film, try to set up suspense from one page to the next," she says. "'…And then the door opened…' and you have to turn the page."

With one written manuscript recently rejected, another ready for illustrating, and a trip to Italy in the planning, Christensen considers the next turn of the page in her own life and career. Further study and work in Venice, a place of past education and inspiration, seems the most likely course. "I feel like the right thing for me to do is go and just make art," she says. EWH
APPLES & AIR GUARD
It's hard to imagine Colonel Phillip E. Murdock '85, commander of the 158th Fighter Wing of the Vermont National Guard, as a retired apple farmer. His energy and leadership skills — put to the test most recently during three months as commander of a base in Iraq — make it difficult to envision Murdock settling into, say, an afternoon of quietly pruning trees.

Murdock and his wife, Helen (Cassidy) Murdock '81 bought the Chapin Orchard in Essex Junction when they returned to the state five years ago, diving headlong into a challenging mix. "Right now there's not enough time in the day. I've got three teenage kids, more than a full-time job, and an apple orchard," Murdock says. "I call it 'controlled chaos.' But I can see myself retiring in five years and running the orchard. Once you see the place you fall in love with it."

Still, the apples will have to wait. Murdock's unit, which includes many UVM alumni among the 300 full-time and 700 part-time guard members, is home of the Green Mountain Boys, scheduled to receive the 2005 Winston P. Smith Award as the nation's most outstanding fighter unit.

"I like leading and motivating people in stressful situations and making sure they have what they need," says Murdock. "That's what it was really all about in Iraq. You really felt like you were helping people out. The career track from here usually leads to joining the fray in D.C. But who'd want to leave Vermont? I've been all over the world and when I look at the quality of life here it's hard to beat." JR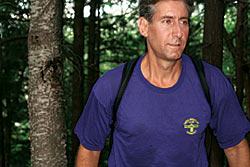 KEEPING THE TRAIL
Ben Rose G'90 is a fit 45-year-old guy, a seasoned marathoner. Still, the steeps on Bamforth Ridge heading up Camel's Hump and his passion for the subject, the "footpath in the wilderness" under his feet, forces him to draw in sharp breaths between short phrases.

It's tough work, because Rose is a good talker. As the path ascends from the Winooski River, the Green Mountain Club's executive director covers everything from the Long Trail's nearly 100-year history to the contemporary socioeconomics of family camping, from the fragility of the "little scrapings of Labrador" left by the glaciers on a few Vermont peaks to the proper way to blaze the Long Trail (white paint, 2" by 6" rectangle).

Rose says that his role with the Green Mountain Club requires a generalist, versed in all of the above and then some. His people and political skills, which he furthered with two-terms representing Williston in the Vermont House of Representatives, are often in demand. "I think of my job as being essentially conservative — to maintain an existing thing," he says. "But the greatest management challenge can be to stay still."

Rose made his own end-to-end hike of the Long Trail — an adventure he calls a "greatest hits" version of an Appalachian Trail through hike — the summer after his 1982 graduation from Yale. "It was a wonderful thing to do at that moment in my life," he recalls.

Twenty-three years later and Rose is still on that path, albeit in a very different capacity than solo sojourner. As a young backpacker in a Red Sox hat descends the trail toward him, Rose is quick to stop, talk, offer some advice. "How's the Long Trail treating you?" he asks. "Okay?" TW
WAR STORIES
It's a growing challenge to get kids interested in history," says Brian Knight '93 G'96. "A lot of museums are making the big jump with technology to have more buttons to press, and we're trying to find a balance. There's still something about being in the presence of actual history."

Knight is the curator at Manchester's Hildene, the stately Georgian Revival manse that was home to Robert Todd Lincoln, Abraham Lincoln's oldest son. A recent exhibit at the museum curated by Knight proves that sometimes low tech — a soldier's sock or a hunk of hardtack — is the best way to make history come alive.

The exhibit and the book it inspired, No Braver Deeds, tell the story of Vermont's Equinox Guard, a unit of soldiers from Bennington County that was decimated at the Civil War's Battle of Savage Station.

"Here in Vermont we don't have any tangible connection to the Civil War. You go to Virginia and you can see and feel the battlefields," Knight says. "Here it's hard to get that connection, especially from a kid's point of view." He made that connection by gathering a treasure trove of artifacts, journals, and letters from families who could trace their ancestors directly back to the war.

The exhibit gives life to individual soldiers. Now kids can come to Hildene and get assigned a soldier's name, learn to drill and fill a musket, get a sewing kit and holey socks, even eat hardtack. "The kids are very eager to eat it. I won't touch it. It's just a big overgrown saltine with not a bit of salt in it," Knight advises.

While reading the letters to provide documentation for the exhibit, Knight realized he was onto something. "I read these and a light bulb went off in my head that this wasn't about Hildene any longer, that Vermont needed these stories." EWH
FARM FAMILY
To get to the Meyer family farm, you leave Hardwick and keep going after you hit the dirt, rolling up the hill past pastures, past woods, past the wreck of a barn where someone fixes old equipment until you see the new tent barn glowing in the midsummer sun and 65 pretty cows out on a green field. Make that pretty organic cows.
"
Organic, you know it. We're all natural, you can taste it," says Taylor Meyer '97, who co-manages the place with his brother Nick '99, with part-time help from another brother, Andrew '92, an entrepreneur with an office in what the guys jokingly call "the city": Hardwick.

The trio grew up on the farm, taking over operations when their dad, Steve G'71, was ready to scale back. The brothers went organic in 2003, ditching the old back-breaking tie-barn for a spacious new barn and parlor. The investment allowed them to almost triple their herd with about the same labor, and the organic certification has yielded premium prices from the Organic Valley co-op. Recognition has flowed in as well: Vermont dairy farm of the year in 2004, a co-op top quality award and more. "It was what they call a good year," Nick says.

The brotherly styles differ — Taylor is jokey, Nick intense, Andrew smooth — but all are deadly serious about keeping the land they grew up on working and in the family. Even as many farm families are leaving the business, the Meyer boys are hatching big plans to build their operation to a place where it can support as many family members as want to work it. "It's so much better than an office," Andrew says of the lifestyle. "Our cubicle is 400 acres, with ponds and lakes and big equipment and cows, fresh air, gardens, and family." KF
CONNECTING WITH KIDS
A good sense of humor serves both Andrea Grimm '99 and her clients well in her career as a social worker. On the staff in the Middlebury office of the Vermont Department of Social and Rehabilitation Services, Grimm's work is focused on helping young people.

"They've been through a lot — sometimes things you would not imagine in your wildest dreams — and humor can be a good way to reach them," she says.

Grimm's ability to reach at-risk youth in a meaningful way has made significant differences in the lives of many young Vermonters in the county in which she grew up. It also earned her the 2005 National Social Worker of the Year Award given by the National Foster Parent Association. That came after county and state social worker of the year awards.

The most meaningful part of the award for Grimm, were nomination letters submitted by parents of children she'd worked with, counselors, and adolescents. One teenage girl wrote about the time Grimm took her to her first dentist appointment and how important Grimm was to her during a difficult time in her life. Grimm, whom the teenager called strict but funny, has developed similar bonds with students whom she's taken to the movies, out for pizza, or on bike rides.

She also spends time at hospitals and other places where serious crisis intervention is required. "It's definitely not all fun and games," Grimm says. "There are some very difficult times." JR