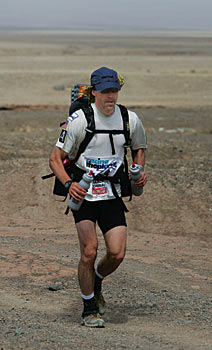 photo by Lester Lim, Framewerkz/Racingtheplanet
DRY RUN
by Judy Holland
Joe Holland '88 goes the distance in the Gobi Desert
Joe Holland '88 spent his vacation running, walking, and occasionally crawling 158 miles across rocks, sand dunes, hills, and streams in "The Oven," a region of the Gobi Desert where temperatures hit 122 degrees.
A two-time Olympic Nordic Combined skier and frequent competitor in New England triathlons and adventure races, Holland made a 40th-birthday decision to sign up for the Gobi March. The event in China is one of the most grueling adventure races in the world, and Holland prepared as best he could, putting in regular three-to-four hour runs on Vermont snowmobile trails, his border collie, Mitzy, keeping him company. Keeping it in the family, sponsorship from his brother, Jim Holland '95, founder of backcountry.com, helped him make the trip.

Looking back on last April's race, Holland says there was plenty he couldn't prepare for — the blackened toenails, blisters, dehydration, near sleepless nights, sheer monotony, and the psychic battering he would face after wandering off course. Holland led three of the first four days of the race before starting the 56-mile "Long March," through the Turpin Basin, a sweltering moonscape with no living creatures. But as a knee injury forced him to limp home the last 70 miles, he shifted focus from winning to finishing. "It became more of a spiritual experience than a race," Holland says. He finished fifth, the top American in a field of 89 competitors from 21 countries.

As the going got tough, Holland paired with Ben Ferguson, a hedge fund salesman with Goldman Sachs in Tokyo. To keep sane, they quizzed each other on state capitals and sang old Top 40 songs.

They joked that the best way to prepare for the race would be to "put a stationary bike in a sauna on high and deprive yourself of water for hours while somebody's beating your feet with a baseball bat."

Holland and Ferguson had more in common: Ferguson had recently proposed to a woman who declined, while Holland was in the midst of a marital separation and "needed a mental vacation."

"Maybe it was a mild midlife crisis, an escape from the banalities of life," he says.

While scaling towering sand dunes, Ferguson became disoriented from dehydration and fatigue and urged Holland to run ahead. But Holland stuck by his fellow competitor and others who were struggling. In the end, Holland said, winning became far less important than the kinship and the journey itself.

"I came back from the desert physically exhausted but mentally recharged after a focus on surviving, going fast, thinking what to eat next and how to get another day out of my feet," Holland says. "The best of humanity comes out when we're helping each other treat our wounded feet and encouraging other competitors to finish. The camaraderie supplies you with endless energy."

EDITOR'S NOTE: As VQ went to press, Joe Holland was prepared to begin a 155-mile race in the Sahara Desert. Journalist Judy Holland is Joe's sister and a reporter for Hearst Newspapers.