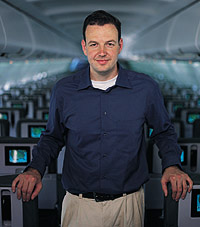 When most people try to imagine the battle between David and Goliath, they conjure an image that might look something like this: a young man, wrapped in strips of animal fur, defiantly stares at the giant before him. In his hand, the young man whirls a sling that holds a stone. The David of this story is Alex Wilcox '94, director of business development for the start-up airline JetBlue. His clothing is a suit. His sling is an Airbus A320. His stone, customer service. David's success against the larger Goliath is an old story, but it's the analogy most airline industry analysts use when talking about the launch of JetBlue Airways. Many of these analysts think it's unlikely JetBlue will succeed, citing People Express and ValueJet as examples of how low-cost airlines fail in an era of deregulation and extraordinary competition. Others are not so sure. They cite a well-thought-out business strategy and sound financial management as weapons. And they appear ready to lay down money on JetBlue's success.

One of my earliest memories — I must have been three or four years old — is of standing on the airstairs, waiting to board a SwissAir 747 at the Geneva airport," says Wilcox. "I was just so impressed by the size, the grandeur of the aircraft."

And so began Wilcox's love affair with aviation. A native of North Hero, Vermont, Wilcox worked after school and summers at the Burlington Airport, paying for flying lessons as he could afford them. When not in the air, he cleaned planes. He loaded and fueled them. He even began to work behind the ticket counter, gaining experience in customer service. By age sixteen he had earned his pilot's license, and although he didn't know it at the time, was beginning to build a foundation for a career he could not yet imagine.

"I like to think of those years as the first half of learning what I needed to build a career. Through those jobs, I learned a little bit about what people want when they fly as a passenger on an airplane," says Wilcox. "The other half I gained at UVM." An English major early on, Wilcox turned to political science during his third year. He was active as a student, serving as president of the Student Government Association (SGA) his fourth year.

"It was a particularly tough time for UVM," he says, "and an exciting time — as a student — to be involved with university governance. George Davis had resigned as president and Tom Salmon had joined the university and was making some difficult fiscal decisions."

According to Wilcox, his tenure as SGA president brought a new relationship between the administration and the student leaders. "I learned a lot from working with the president, faculty, and trustees," he says. "There was no time to be shy with opinions. Time was short and there was a lot to accomplish, so I'd just put my cards on the table and go from there. As it turns out, that was a very valuable lesson for me, one that helped me later in my career."

The Burlington International Airport is bustling this September day. Outside the concourse window a taxiing JetBlue aircraft is being dowsed with water from a firetruck — a traditional christening of airplanes on their inaugural run. Inside the terminal, Alex Wilcox is taking stock: the cake with the inscription "Welcome JetBlue" and the Ben and Jerry's Peace Pops are in place and ready for passengers. Blue antlers are ready to hand out to people boarding the plane. The incoming flight is on-time.

Wilcox seems to be everywhere. He's with the gate crew: "How are things going; is there anything you need?" He's with airport personnel: "Thanks for your help today." He's shaking hands with people departing the plane: "How'd we do; was your flight fun?"

It's important, Wilcox believes, that customers walk away from a JetBlue flight feeling good about their experience. "Fun," as it turns out, is one of the five core values of the company, in addition to safety, caring, compassion, and integrity .

Wilcox points out that most airlines have forgotten how important it is for customers to feel good about their flight. He offers leather seats, expanded leg room, and mini-televisions for each passenger as examples of ways in which he is trying to make flying something special for people who choose his planes. "I even chose the countertops in the bathrooms," he says, noting that using gray Corian® rather than the standard stainless steel can give even an airplane bathroom a distinctive touch of character that most airlines ignore.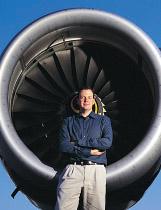 Already, he is working hard to ensure that flying JetBlue remains fun for passengers and that the airline is a part of the communities it serves. In honor of the Olympic Games, JetBlue held the "Red, White, & JetBlue Games," in which passengers and staff at the New York terminal participated in the "JetBlue pillow toss" and the "drink tray relay races" among other mock-Olympic games. The airline recently rearranged scheduling to make one of its aircraft available for the Vermont Special Olympics plane pull, where participants struggled to pull the aircraft twelve feet — all to raise money for Special Olympics. Wilcox also arranged for the airline to offer fifteen seats a month to UVM at no cost to strengthen the university's partnership with Christopher Columbus High School in the Bronx. The gift allows UVM faculty and students to travel to the high school, as well as Christopher Columbus students to visit UVM.
JetBlue is the realization of a dream about how an airline can operate. After leaving UVM, Wilcox managed the rock band Naildrivers, traveling with it across the country and ultimately landing a record deal. When the band broke up in Florida, and he found himself looking for work, Wilcox fell back on his first love, aviation. He took a job in Miami at the ticket counter for Virgin Atlantic airways, and three months later found himself in New York working as a junior executive in product development.
"The ticket counter provided an important transition from my work as a student to my work for Virgin Atlantic," says Wilcox. "It put me back in touch with what I had learned at the Burlington Airport and about what customers want when they decide to fly on a plane."
Of his rise at Virgin Atlantic, Wilcox says, "It was in part being in the right place at the right time with the right skills, and, in part, having the courage to say what I think. And it helped that I was thinking somewhat out of the company's box." While at Virgin Atlantic, Wilcox wrote and presented a business plan for creating a SilverLines branch of the airline, designed to compete with Concorde. His proposal attracted the interest of senior executives and helped put him in the position of reviewing major proposals to the airline. The position would eventually lead to his role with JetBlue.
While reviewing proposals for start-up ventures, Wilcox was attracted by one from David Neeleman to create a low-cost airline that could compete with major U.S. airlines. When Virgin Atlantic chose not to act on the proposal, Neeleman decided to launch the airline himself and recruited Wilcox to head up product development, airport operations, and now business development for the start-up.
"We put a lot of thought into JetBlue as we built our business plan," Wilcox says, indicating that they decided that all manuals — from flight manuals to customer service manuals — would be written from scratch, no copying from manuals belonging to another airline. "We started with the basic questions: Why are we doing this? What do we want the customer experience to be? Who do we want to fly on our airline and how do we best reach them?"
When asked about the predictions for failure that come from some industry analysts, Wilcox shrugs. "I think they're wrong," he says. "It doesn't worry me. I believe we're doing things right." According to Wilcox, linking JetBlue to other low-cost airlines leads many analysts to the wrong conclusions. "We know where we want to go, and we've learned lessons from other airlines. Our airplanes are brand new, our financial backing is far better than most start-up operations, our growth plan is well-thought-out and we'll stick to it, we're very conscious about our markets, and we are committed to making air travel enjoyable as well as affordable.
"We're a great airline," he'll tell anyone who will listen. And with a little luck and a lot of determination, people will hear his message. VQ