Welcome to the partnership

Getting started
We're here to help you explore the most amazing and effective ways technology can support and enrich your teaching. We provide support with:
Have an idea you'd like support with? Need an extra set of hands to help document your work? Let us know.
Recent partner projects
How to use the Tarrant Tech Library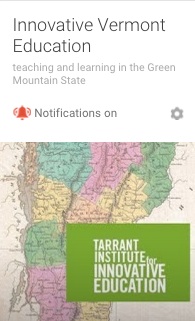 Join us online

Social media provides a wealth of ways to share the amazing work you're doing, as well as keep up-to-date on what's new in the edtech world.

We host a Google+ community, Innovative Vermont Education, as well as co-moderating the #vted twitter chat, publishing a podcast of Vermont education stories, showcasing a series of tech tips videos on RETN Channel 16 (debuting June 2015), and hosting an edtech blog with more than 5,000 monthly visitors from the world of education.

Here are some ways you can jump into the conversation:
We'd love to have you join us, and we want to make it as easy as possible for you to share, follow and contribute.
Last modified November 01 2017 09:17 AM