Reflection and the action research cycle
Required Products
Journal:

informal, on-going reflections to record and share your thinking and learning

Website:

final collection representing work from each stage of the research cycle

Presentation:

share the learning with a wider audience
Tarrant Institute Graduate Course
Want to earn graduate credit for the amazing work you're already doing with the Tarrant Institute?
We are happy to announce a new, school-based course designed specifically for our partner educators:
Title: Personalization, Technology, and Early Adolescents
Dates: January 16- May 4, 2018
Location: at your school and online (hybrid)
Credits: 3
Deadline to register: January 22
Choose Your Own Adventure
Our syllabus outlines the expectation that you address authentic needs in your practice. Work with us to answer a compelling question. You will design a project where you set goals, design and implement a change in practice, collect relevant data, and analyze how the project affects students.
Build Your Own Playlist
Working together, we will select relevant readings, online learning opportunities, videos, webinars, etc. to ground your work. We will also help you learn to use the technology tools you choose to integrate.
Answer Your Own Question
Embark on an Action Research journey. This course asks you to systematically examine your own practice through action research cycle where you will pose a question, gather data, decide on a course of action, assess the implementation, and reflect on its impact.
Share Your Experience
The power to learn from models is important to us. By sharing your journey to a wider audience of educators, you are contributing to a learning network we believe is important to cultivate. Others might be inspired from your journey and might be empowered by your example.
Dissemination is a key expectation of this course. We have multiple avenues for you to share.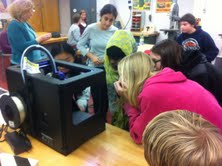 Examples of dissemination
Syllabus
Projects should address the authentic needs of participants and their students. The project plans will incorporate an inquiry design that establishes project goals, designs and implements a change in practice, collects relevant data and analyzes how the project affects students.
Course facilitators will support participants as they identify students' needs and craft plans that are research-based, technology-rich and responsive to the nature and needs of young adolescents.
Participants will consult with facilitators about their ongoing research at least every two weeks in an agreed-upon format. Participants will also have ample opportunity to hone their projects in collaboration with peers. Participants will document their action research using an online tool such as Google Sites. Participants will reflect upon and share their findings to a public audience through conference presentations, a live or recorded webinar, a blog post or other agreed-upon format that can inform the work of other educators.
All participants are invited to discuss with facilitators alternative designs in order to meet personal or team goals and priorities.
Registration
Pre-Register: Here
May request or reactivate your UVM Net ID during this process – wait 24 hours for a response from UVM if requesting a Net ID
Email: Receive your 95 number and email it to Robin Merritt, rmerritt@uvm.edu
Register: Continue your official registration Here, using your UVM NetID and selecting "Registration" within your account
You will need the following information:
Semester: Spring 2018

EDML 200, CRN 14421
Last modified January 09 2018 04:54 PM