Welcome to the future of Middle School

The Tarrant Institute partners with middle schools to improve the education of young adolescents in Vermont through technology-rich learning.

What We Offer
We've under-written the rollout of 1:1 internet-enabled devices to our partnering iLeap schools, and continue to provide funding for technology innovations within our cohort.

We also provide principal and administrative and leadership team consultations and seminars to help move Vermont's middle schools toward a technology-rich, student-centered outcome.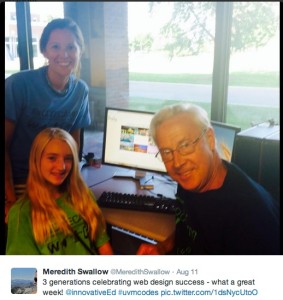 Meredith Swallow talks about Code Camp, Wade Boggs, pi and other irrational things with her middle-school niece.
Last modified August 18 2014 09:27 PM