Monsanto at UVM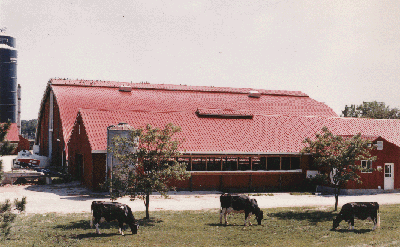 University of Vermont (well known as the University of Monsanto), has been home to much of the rBGH research and investigation, along with other genetic engineering research, resulting in products which will eventually end up in our food. UVM no longer invests in Monsanto, due to activist pressure, and now alternately invests in diversified mutual funds.
Activists Scale Burlington Water Tower to Protest Monsanto-University Ties - Report from NorthEast Resistance Against Genetic Engineering (NERAGE).
---
Quotes from Web Articles
In 1991, a researcher at the University of Vermont, where Monsanto was spending nearly half a million dollars to fund test trials of rBGH, leaked information about severe health problems affecting rBGH-treated cows, including mastitis and deformed births. The scientist heading the research had already made numerous public statements to state lawmakers and the press and released a preliminary report indicating that rBGH-treated cows suffered no abnormal rates of health problems compared with untreated cows. The U.S. General Accounting Office (GAO) investigated. During the investigation, the FDA stalled in providing the GAO with original Monsanto test data. and the GAO was unable to obtain critical data from the University and Monsanto. The GAO terminated its investigation, concerned that Monsanto had had time to manipulate the questionable data and that any further investigation would be fruitless. In an effort to dissipate public concern, University of Vermont scientists finally released information showing rBGH's negative effect on cow health, years after the findings had been made.
Taken from: http://www.monitor.net/monitor/9904b/monsantofda.html
In 1990, when FDA approval of rBGH appeared imminent, a veterinary pathologist at the University of Vermont's agricultural research facility released previously suppressed data to two state legislators documenting significantly increased rates of udder infection in cows that had been injected with the then-experimental Monsanto hormone, as well as an unusual incidence of severely deforming birth defects in offspring of rBGH-treated cows. An independent review of the University data by a regional farm advocacy group documented additional cow health problems associated with rBGH, including high incidences of foot and leg injuries, metabolic and reproductive difficulties and uterine infections. The U.S. Congress' General Accounting Office (GAO) attempted an inquiry into the case, but was unable to obtain the necessary records from Monsanto and the University to carry out its investigation, particularly with respect to suspected teratogenic and embryotoxic effects. The GAO auditors concluded that cows injected with rBGH had mastitis (udder infection) rates one third higher than untreated cows, and recommended further research on the risk of elevated antibiotic levels in milk produced using rBGH.
Taken from: http://www.social-ecology.org/learn/library/tokar/monsanto.html
Another kink in the approval process of rBGH occurred in 1991 at the University of Vermont, where Monsanto was funding test trials of rBGH. A researcher leaked information about increased mastitis and birth defects among rBGH-treated cows after the project's head scientist had made public statements to state lawmakers and the press and released a preliminary report that rBGH-treated cows were as healthy as untreated cows, The Ecologist reports.
Taken from: http://planet-hawaii.com/environment/rbgh.htm
---
Other Internet Resources
Revolving Doors: Monsanto and the Regulators - Article by Jennifer Ferrara, not printed in "The Ecologist", proving that corporations can influence our media without owning them, but just by fronting a threatening legal team.
NorthEast Resistance Against Genetic Engineering (RAGE)
VPIRG: An rBGH Overview - A thorough overview and introduction to Bovine Growth Hormone, by Vermont Public Interest Research Group (VPIRG)
Monsanto Watch - Alerts, internet resources and background information about Monsanto, maintained by the Organic Consumers Association
Monsantos Company Mock company and website maintained by the decipticons.
Recombinant Bovine Growth Hormone (rBST) Policy Meeting - Sixth meeting in front of Canadian Senate Committee on Agriculture and Forestry and its effects on human and animal health safety.
A Seed Europe Gene Tech Section
PureFood: Organic Consumers Association
Monsanto - World's Most Unethical and Harmful Investment
Milk, rBGH, and Cancer - Report from Rachel's Environment & Health Weekly, provided by Environmental Research Foundation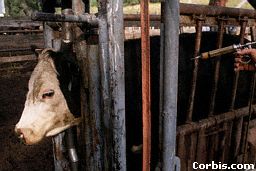 Monsanto's Secret about Bovine Growth Hormone - From Sierra Club of Canada.
Doin' a Body Good? - Studies Link rBGH-Produced Milk and Increased Cancer Risk. E-Magazine.
Monsanto's Genetically Modified Milk Ruled Unsafe - News release by Samuel S. Epstein, M.D., Professor of Environmental Medicine, University of Illinois School of Public Health, Chicago.
---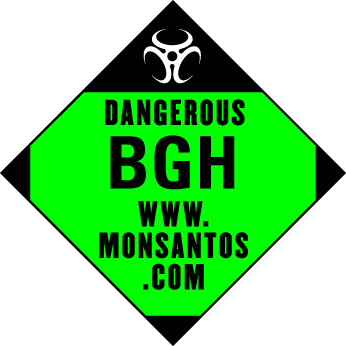 ---