Rally for Livable Wages
UE Local 267
Thursday, May 10
11:30-12:30
Burlington, VT
Redstone Green at UVM
(off of South Prospect St.) [map]
---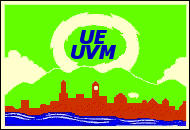 (From UE Local 267) Our union which represents over 300 service and maintenance workers at UVM, has won significant wage increases in our first three years of bargaining. However, we are still fighting for a livable wage for all our members.
Currently only about half of our members earn a livable wage for a single person (using the Vermont State Legislature's figures for 1998) and only one of the 65 members who speak English as a second language earns a livable wage. We have members who have worked at UVM for 19 years and still don't earn this minimal amount.
UE Local 267 will entering into negotiations with UVM beginning on May 14 where we are seeking a fair wage scale that will guarantee all employees a wage that will provide for their basic needs and fair wage increases for everyone. Please join us at our rally for a livable wage on Thursday, May 10 from 11:30 to 12:30 at the Redstone Green off of South Prospect on the UVM campus.
For more information, please contact Tom Stout or Heather Riemer at 658-6788 or ueuvm@together.net.
---
Links