Peace Rally, Burlington, VT
November 4, 2001 - 12.00 pm
Click on any of the thumbnails below to see the larger version. The raw versions of the files are also available for use (wallpapers, printing). They are large files.
---

UVM Students pass 242 Main on their way downtown.

Banner hangs on the front of Burlington City Hall, it reads "Stop this war!"
---
Several folks speak in front of Burlington City Hall with the "shopping cart microphone system".





---

Marchers listen in front of Burlington City Hall. One sign reads: "For our children, we need to work on a new world now!" Another sign reads "Stop the racist backlash. Being Arab is not a crime."

March begins down church and east on Main Street, George Bush puppet seen with sixth commandment: though shall not kill.

Marchers on Main Street sidewalk. Sign reads: Seven million Afghans are expected to starve this winter. Stop the genocide.
---
Protestors cross main street heading towards Senator Patrick Leahy's Burlington office.



Protestor sign reads: "No more blood for Oil".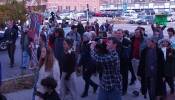 Protestors stand outside of Burlington Free Press on Winooski Avenue.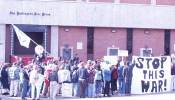 Activist stands by road displaying sign to passing motorists. The sign reads: "Question the Government. It is Patriotic."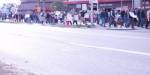 Shot of the back half of the group of marchers as they head up North Winooski.
---
Bernie Sanders Office, top of Church Street

Antiwar activist who served as support for those arrested in the occupation of Congressmen Bernie Sanders' Burlington office in 1999, calls on Bernie to end his support of U.S. foreign policy.

Crowd in front of Bernie Sanders' Burlington office.

A man with his baby on his back stand in front of Federal Building. His sign reads: "Millions of Afghans are slowly starving. Does Bush even know what it means to be hungry?"
---
March continues from Federal Building down Pearl Street towards Senator Leahy's office.






Pax Christi member calls for the ending of racist policies and sings for peace and justice in front of Senator James Jeffords Burlington office.
---
March continues back up Main Street towards City Hall

Sign reads: No Blood for Oil. US and UNOCAL out of Afghanistan.

Signs say: "Justice not Vengeance" and "Peace on Earth"


Chanting continues in front of Burlington City Hall. Protestor sign reads "No more innocent victims".

Banner reads: "Stop the War. Change U.S. Foreign Policy. Intenational Socialist Organization".

Photographs and page by Aaron Hawley. No Copyright