Vermonters Say No to War!
February 15, 2003
Photographs from Burlington and Montpelier
---
Vermont Weather
Conditions: Clear Skies.
Temperature: Below zero (Degrees Fahrenheit).
Wind Chill: Eighteen Degrees below zero Fahrenheit (-18° F).
---
Click on an image to get the original (big files -- 2 Megabytes).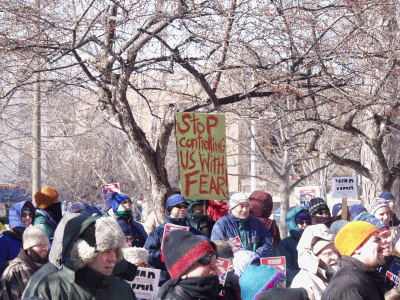 Crowd in Burlington City Hall Park, sign says "Stop controlling us with FEAR"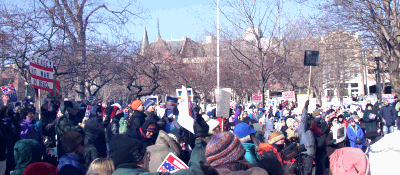 Crowd in City Hall Park.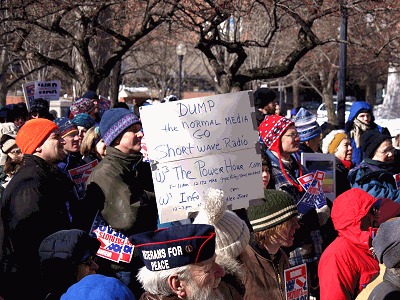 Sign in Crowd says "DUMP the Normal Media, Go Shortwave Radio w3 The Power Hour .com"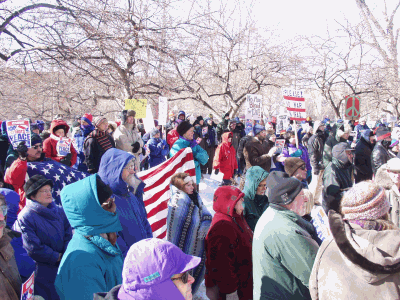 Crowd in Burlington City Hall Park, including American flags, placards, peace symbols, and "Patriots for Peace" signs.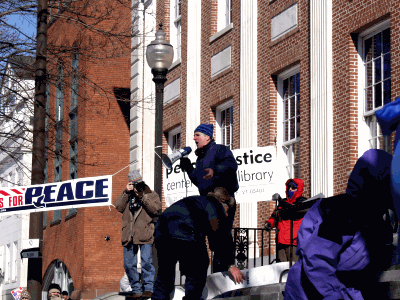 Founder of Patriots for Peace, William Senior, speaks to crowd over megaphone.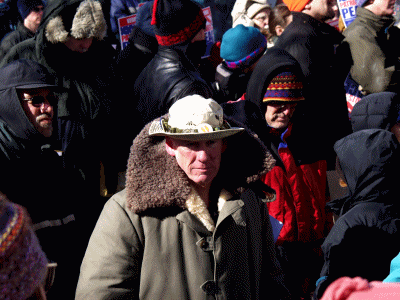 Vietnam Veteran for Peace listens solemnly from crowd.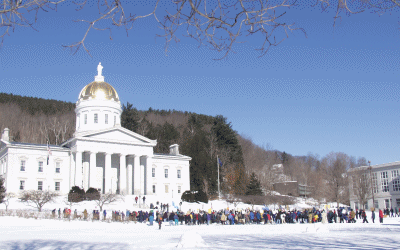 Hundreds of Anti-war protesters stand in front of State House in Montpelier.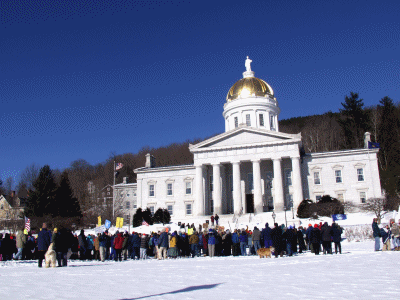 Over a thousand Vermonters at steps of Vermont State House protest war.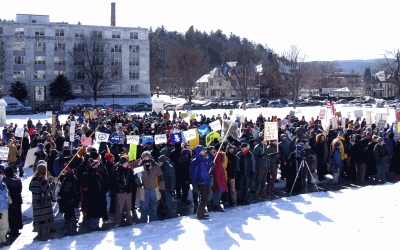 Picture of protesters and peace banners from State House steps.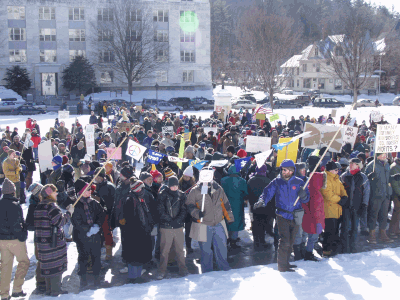 Placard held to State House Street lamp says "Fuck War" with Capitol Dome behind.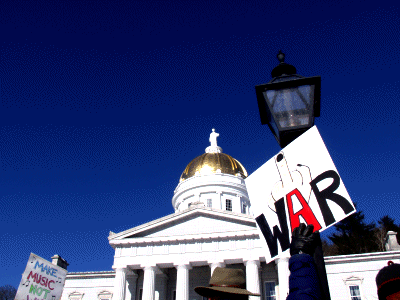 Vermonters hold Anti-war quilt that was constructed for the first Gulf Massacre.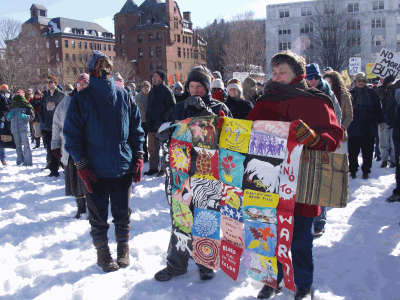 Vermonter holds wooden sign that says "No War" vertically in red and yellow.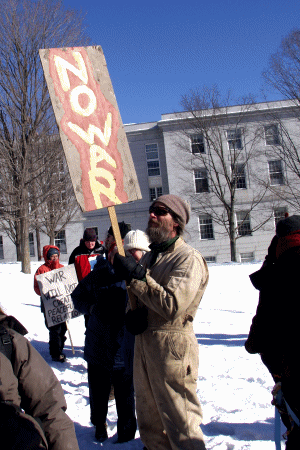 Resister holds sign having a caricature of George Bush with Duct Tape(R) over mouth, with "A Good Use for Duct Tape" written below.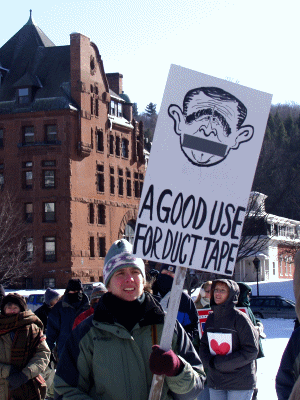 Young girl holds "Maine and Hawaii Voted No to War How About Vermont?"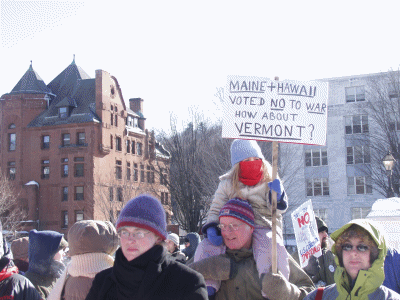 View of front of crowd in Montpelier.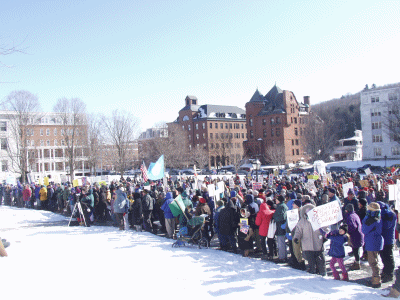 View of front of crowd in Montpelier.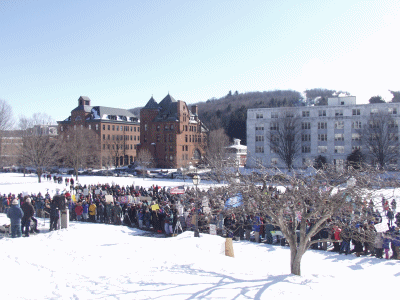 Wider view of crowd in Montpelier.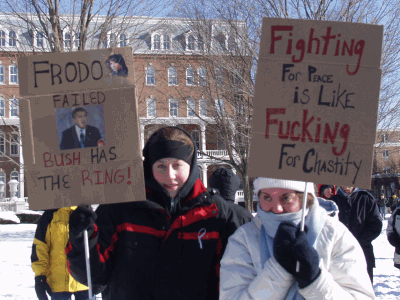 Two Placards saying, "Frodo Failed! Bush has the Ring!" and "Fighting for Peace is like Fucking for Chastity".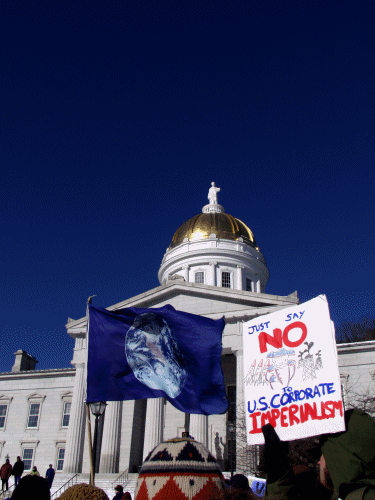 Placard saying "Just say NO to U.S. Corporate Imperialism" and Earth flag waving in front of State Capitol building.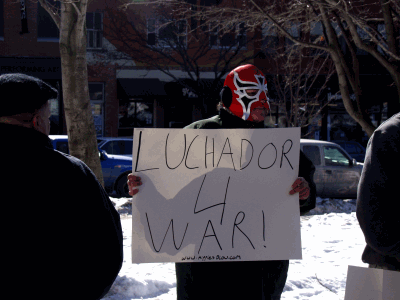 Counter-protester with sign "Luchador 4 War"(?)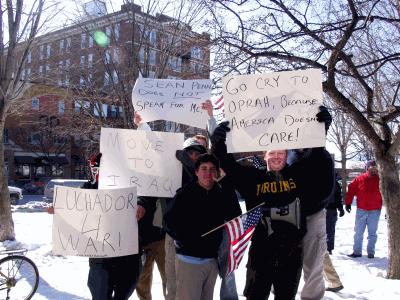 Anti-anti-war protestors present themselves.
---
Published at 17.30 on February 15, 2003

No Copyright! Use as you wish. --Aaron Hawley