Cabinet
Club Council meetings happen at the Outing Club on Monday Nights at 7:15pm sharp!
For more information contact us at (802) 656.3439 or e-mail us at outside@uvm.edu
2016/17 Officers
President: Lucy Holmes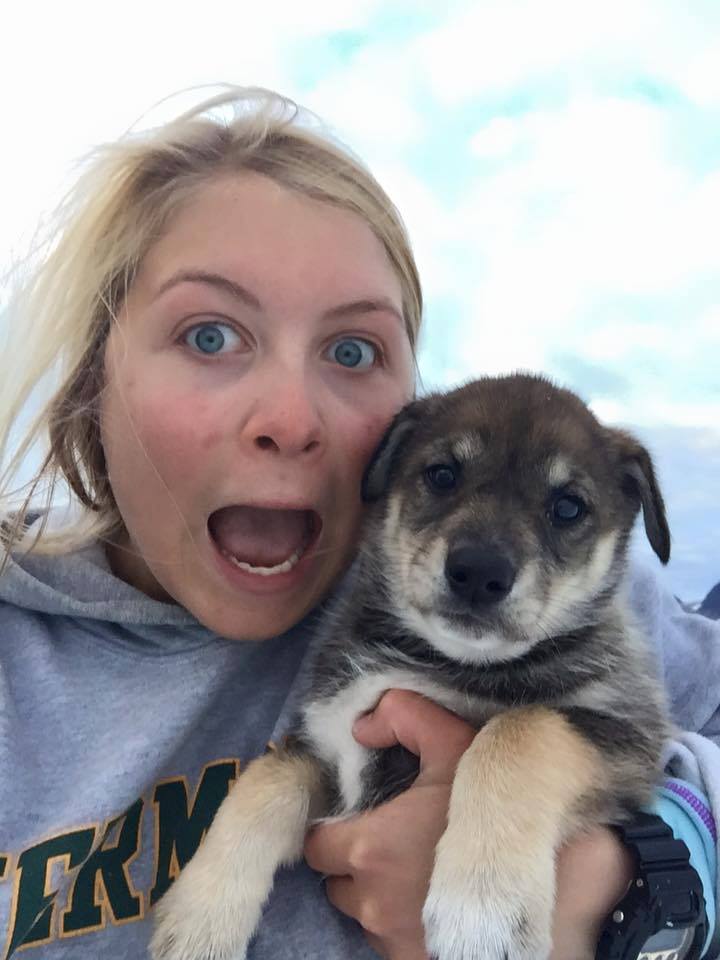 Common Name: Lucy Holmes
Scientific Name: Presidente Tubular
Physical Description: 5 feet tall, Contoured Legs (to perfectly fit into ski touring boots), extra cartilage in the wrists (for ease of kayak paddling), enhanced corneas (to view all New England Patriot's Games), blonde Hair (comparable to that of a majestic lion), and muscle tissue increased (for total kick butt Michelle Obama strength).
Diet: Mac and Cheese, but recent studies show the species will accept any free food.
Habitat: The Lucy Holmes prefers an environment with a large population of rad people, and generally has a vast territory. The territory always includes access to ski slopes, Georgia islands, and a ton of dogs.
Special Adaptations: A gene passed down from mother to daughter creates an eternal level of "stoke", causing the females of the species to be especially "gnarly" and "dope".
*All information based off a 2016 field study
Vice President of Operations: Tim Smith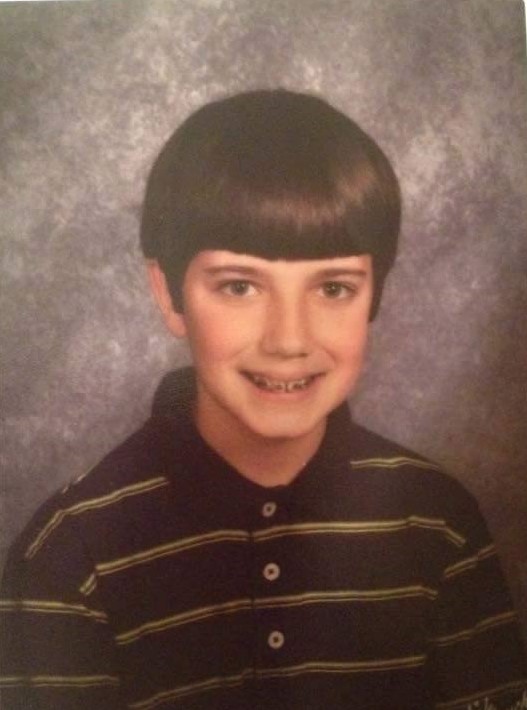 Tim Smith can be found most days wearing dad vests as far away from the outdoors as possible teaching children about animals and belting Frozen songs standing in the communal dorm bathrooms handing out pamphlets about logistics.
In his free time, he enjoys laughing loudly at his own jokes, playing Mario Kart until the wee hours of the morning, and scoring the weight of all dogs that cross his path. Tim is the poster child of positivity in the Outing Club, and we'd all be grumpy if he wasn't around to cheer us up.
Vice President of Leadership Development: Russell Frisch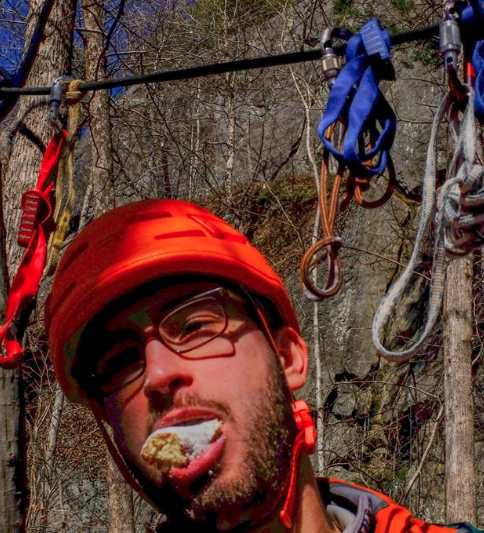 Russell enjoys bread, long walks on the beach, bread, bread, and toast. His recent gluten-intolerance has alienated him from the rest of the world; now you can find him holed up in his room. Sometimes at night if you stand outside on the street you can hear hollow sobs and the frenzy of baking. Utensils clatter, pans bang against the counter, each sound punctuated by a gut-wrenching call of "WHYYYYYYYYY?!". It is the ultimate torture; a craftsman who can never partake of his art. When he isn't baking, Russell can be found escaping his inner demons by scaling sheer cliffs, looking worriedly over his shoulder.
Vice President of Communication: Tim Stevens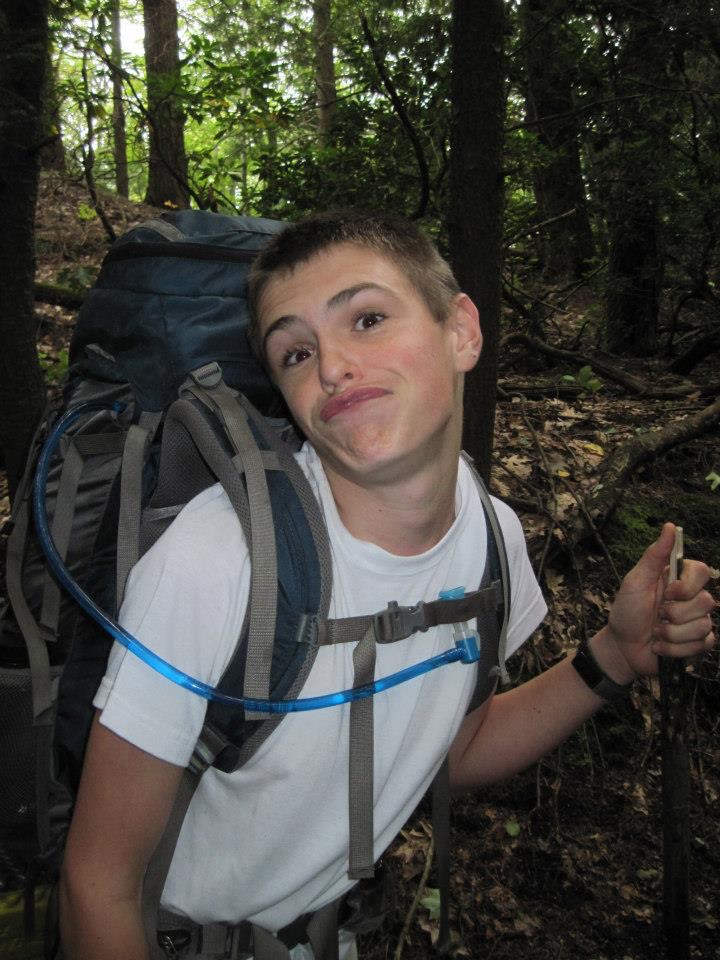 Tim Stevens was born to a computer which had developed basic social skills and a rock that had dislodged itself many years ago. Being raised by a rock taught Tim how to hone his rock climbing skills, as many of his cousins were crags and boulders. Being raised by a computer helped Tim hone his skills in computer science. When the only way to interact with your mother is to learn how to code, Tim went out of his way to become proficient in multiple comp sci. languages.
Tim ended up in the UVM, a place that had optimal conditions for computer science and crag grabbin'. Never the satiable one, Tim decided to become the VP of Communications so that he could be next to his best friend Aaron Lewy, as a member of the UVMOC Cabinet. Tim uses his skills with computers to assist a crew of relatively technologically inept outdoors weird people to make trips happen and events run smoothly. Did you type your name into a computer so that you could sign up for a trip? Congratulations, you accessed Tim's baby! Did you attend an OC general meeting? Congrats! You witnessed the fruitions of Tim's days spent in the dungeons of communication land.
Treasurer (Duke of Dough): Sam Blair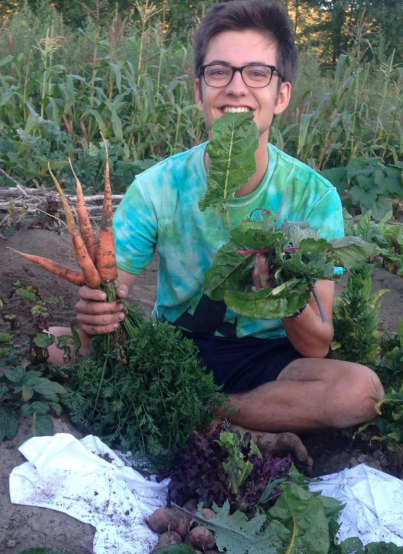 The OC recently adopted a new bunny. We named him Sam, and he enjoys veggies and watching the birds that flit past the OC windows. A distinct noise comes out of his mouth for every different kind of bird that flies past, so we've surmised that he has figured out how to identify them. Another hidden talent of our furry friend is his ability to balance our books - he had a habit of scrounging misplaced coins from beneath tables and hoarding them in his cage, so we figured that we could put him to better use. So far he has done an amazing job of supporting the club, and we just wuv his cute little face.
Van Coordinator: Aaron Lewy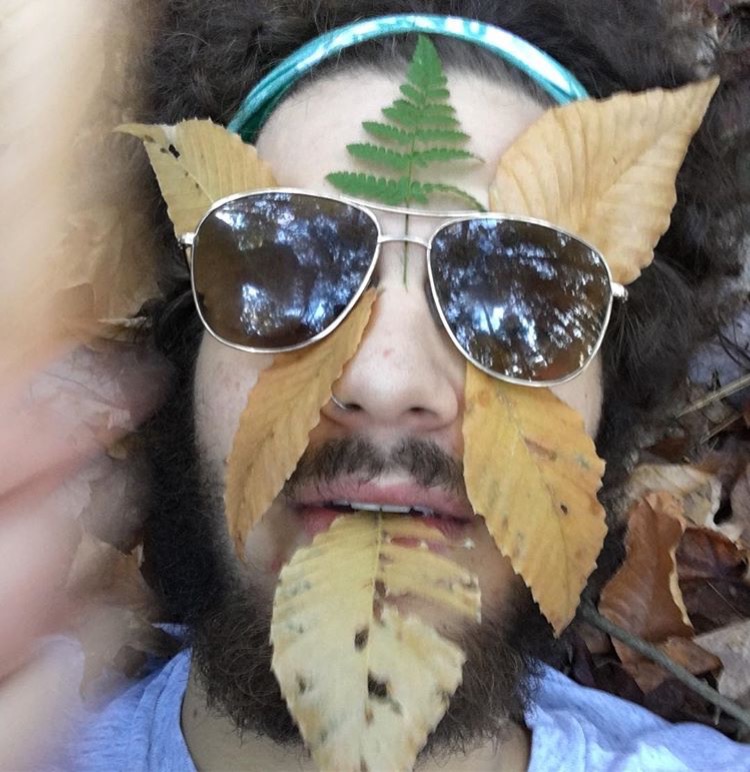 Nature Princess and Van Daddy Aaron Lewy hails from the great state of New Jersey! This Jersey boy's taste in music, though impeccable, tends towards the mysterious and incomprehensible genre called "emo", a label he wholeheartedly accepts- rumor has it Aaron Lewy's music collection is so vast it could possibly bury his suitemates some day soon. When he's in Burlington or bouncing around the Green Mountain state, he enjoys playing with sticks, going for long walks, and swimming in Lake Champlain. Aaron is such a good dog!
Special Events: Maddy Kwasny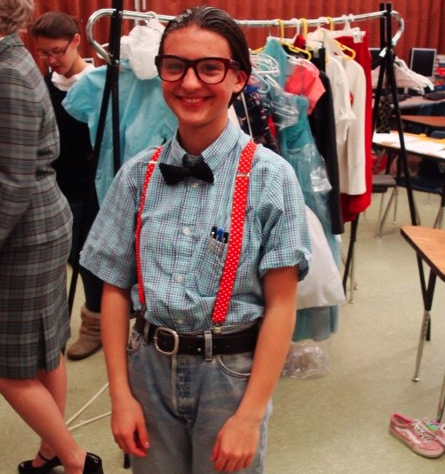 Maddy AKA Kwasny AKA Eugene is the ninth wonder of the world. Only she knows where the eighth is. Her charm is so contagious, vaccines have been created for it. If she were to give you directions, you'd never get lost and arrive five minutes early. Her reputation precedes her, the way lightning precedes thunder. She is, the most interesting woman in the world. She doesn't always choose to hydrate, but when she does, she drinks dihydrate monoxide. Raised by bumble bees in the mojave desert, Maddy was fluent in six languages and single handedly built an oasis in the unforgiving place she calls home by the age of five. She quickly grew bored by the lack of challenge and walked to the Siberian tundra to learn the way of the tiger. It was in this cold, merciless land that Kwasny's love for the mountains blossomed. She nurtured this love by traveling all across Asia searching for the challenge of a life time. A mountain so grand that she, Maddy AKA Kwasny AKA Eugene, could not make the summit in a single attempt. Eugene climbed Everest, K2, Kanchenjunga, and Lhotse. She climbed Puncak Jaya, Elbrus, Blac, Kilimanjaro, and even Aconcagua. It was only when she was on her way down from Mt. Cook that she was told of a mountain range like no other. A range so old, it is a tried and true champion of time. A range known as the Green Mountains! Upon learning of the Green Mountains, Maddy packed her pack and swam until she hit LA, The City of Traffic, and continued onto Vermont. Today, Maddy is currently preparing for her journey through the wondrous Green Mountains, the challenge of a lifetime. Until then, she has stationed herself at the UVM Outing Club to bestow her wisdom and humor upon us all.
Social Chair: Lulu Orne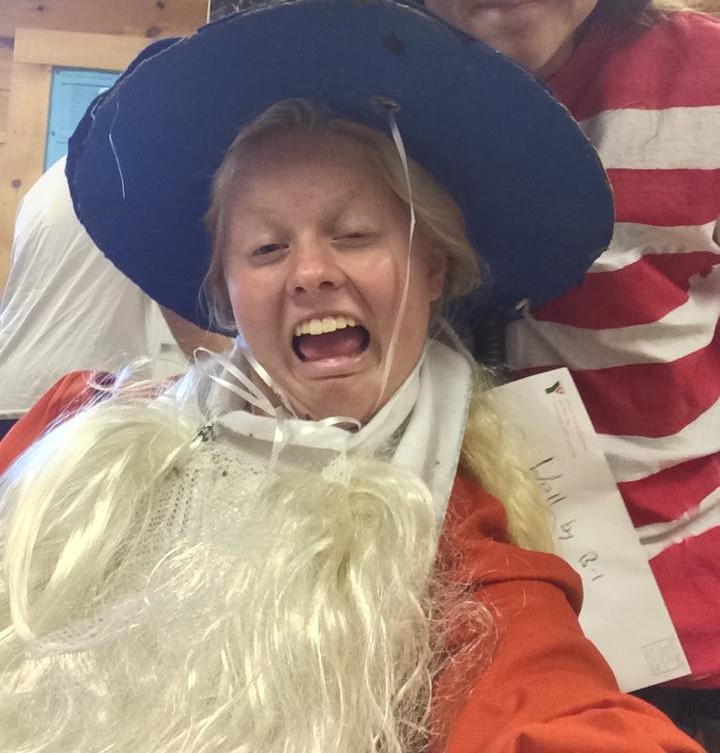 Lulu Orne (LOO-loo ORN), Slug Lady, is a slug, a strong and nasty slug known to hold mysterious superpowers. She currently holds the Outing Club record for longest time unshowered, but what did you expect? She's worked for the U.S government as well as YMCA Camp Coniston, both high-level and top secret endeavors. She also moonlights as the high spirited and donut-filled captain of Are You a Gremlin or Whut, a famous World-Cup winning soccer team. However, Lulu loves three things only: Charles Manson, leeches, and leprosy. She lives on a farm and under a table, but you can find her skiing, sliding, or slipping around, leaving slug trails wherever she goes. Make sure to send her lots of newts!
Head House Manager: Chad McGann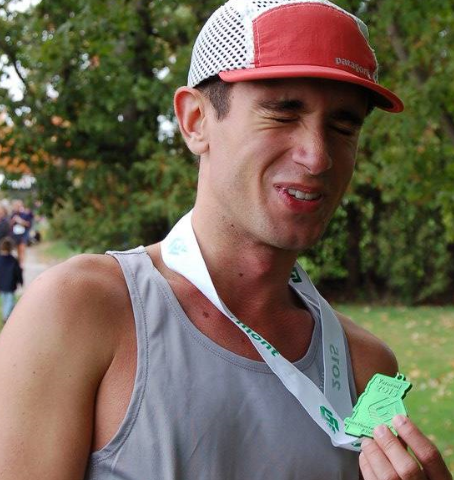 Chad had humble beginnings, he was born and raised at 8 Colchester Avenue, Burlington Vermont and has lived there ever since. His passion for Curling is unmatched and he has won multiple championships, though he is extremely humble and will not discuss it if confronted. When he isn't curling, Mr. McGann can be found standing on his head because, as he says, it increases his brain power. He also enjoys collecting artisan grass clippings from only the most artisan of grass fields in the most artisan places because he is such an artisan person. Find him anytime eating gorgeous gregarious gobs of graciously green glue and he loves to give out samples, so ask him about it.
Cabin Manager: Taran Wise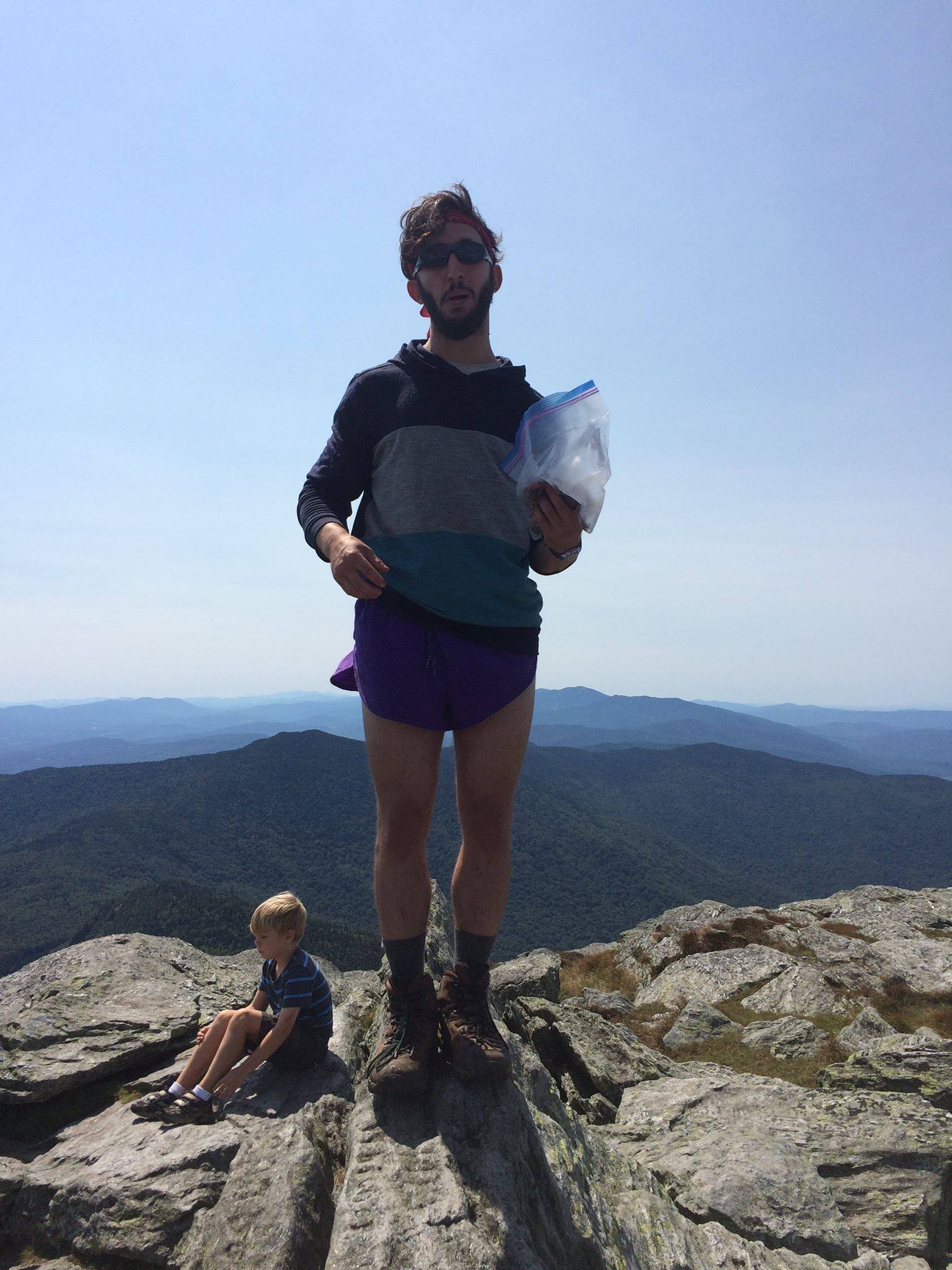 Taran grew up in the African jungle and was raised there by his father, Tarzan. When Taran reached the curious and malleable age of 18, Tarzan insisted that Taran travel to Vermont to continue his wilderness education.
During his time at UVM, Taran's love of camping and hiking blossomed. Taran is trying to convince himself he likes rock climbing, but mostly he just enjoys buying the expensive and shiny gear that he can hang on his wall. When Taran has free time he enjoys contemplating how short the world's shortest pair of shorts is. Taran also enjoys curling his moustache, and is currently waiting to hear back about his possible induction into the Moustache Hall of Fame. Taran's role in the Outing Club is cabin manager, a task that he has taken on wholeheartedly. Rumor has it that Taran skipped the first two weeks of class to split eight cords of wood at the cabin. With Taran at the helm, you can be sure the cabin will be in tip-top shape.
Please send all cabin rental inquiries his way at cabinmanager.uvm.edu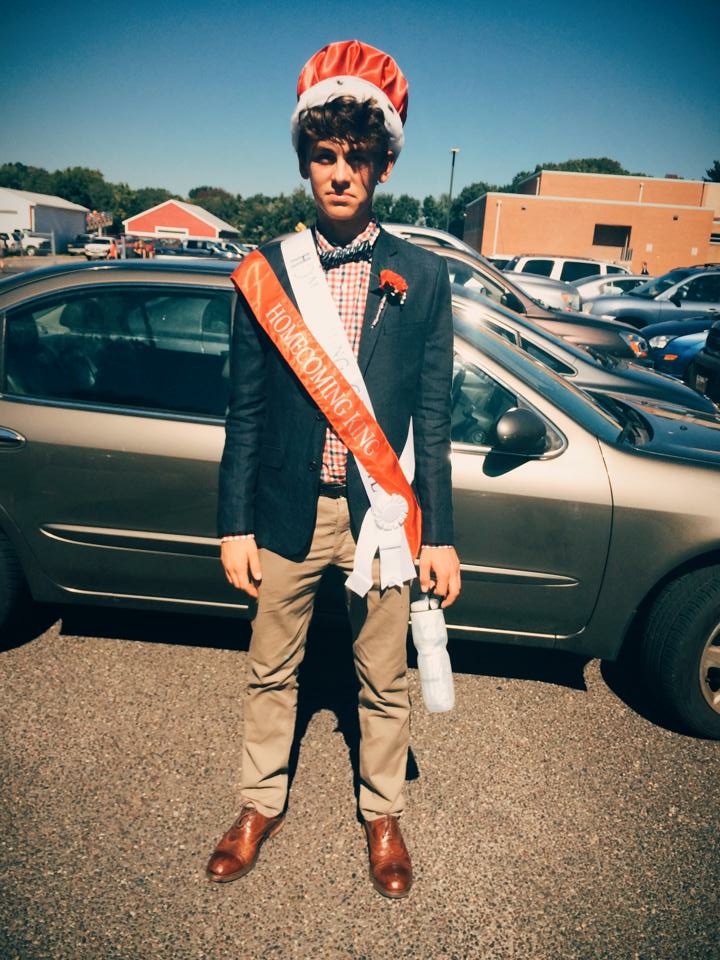 Community Outreach Coordinator: Luke Petela
The fastest vegan on two legs, he is the result of a loving relationship between a gazelle and a mountain goat. A man of great passion, he hails from the wild woods of Philadelphia. In his free time Luke has been known to culture mold in his fridge. He also makes sourdough bread which is said to be quite delicious. Luke is on the forefront of fashion in the back country, the snazziest of dressers the Outing Club has to offer. With a rad French-esque mustache, he wows crowds of onlookers.
He has just recently begun pooping in the woods and has found it to be the passion he has sought after for so many years.
Cabin Manager: Grace Hoffman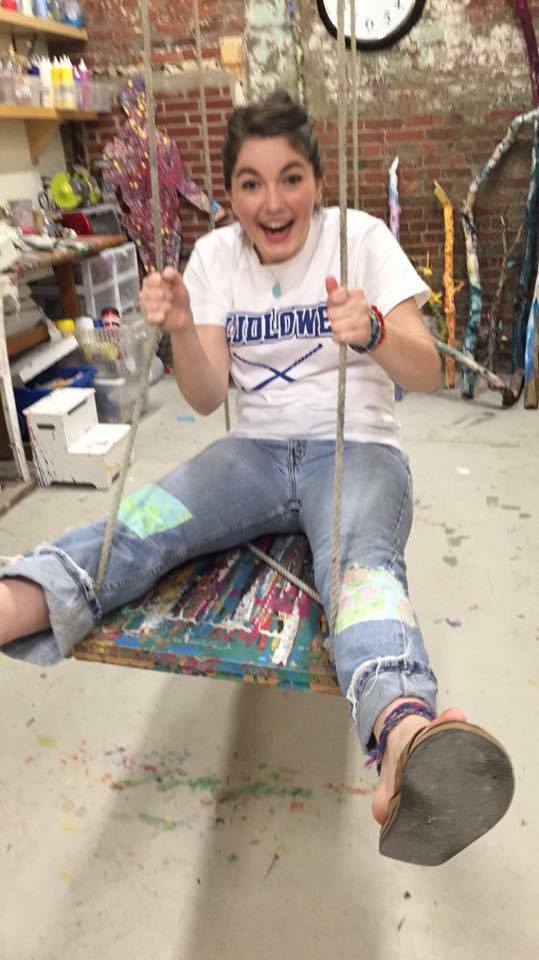 Grace Hoffman is a pure ray of sunshine hailing from the Nutmeg state of Connecticut. She is a graduate of WILD, and enjoys spending time in the woods.
Grace rocks Blundstones and Carhartts like no other, or the occasional blanket to top off a look. When she's not hiking all around New England, she can be found hanging out in her home Farm to Table, making art and listening to lady jams, or her other favorite spot: our very own OC cabin in Bolton.
Grace's smile lights up a room and her laugh can be heard on the other side of the Mississippi!
Social Justice Coordinator: Colby Yee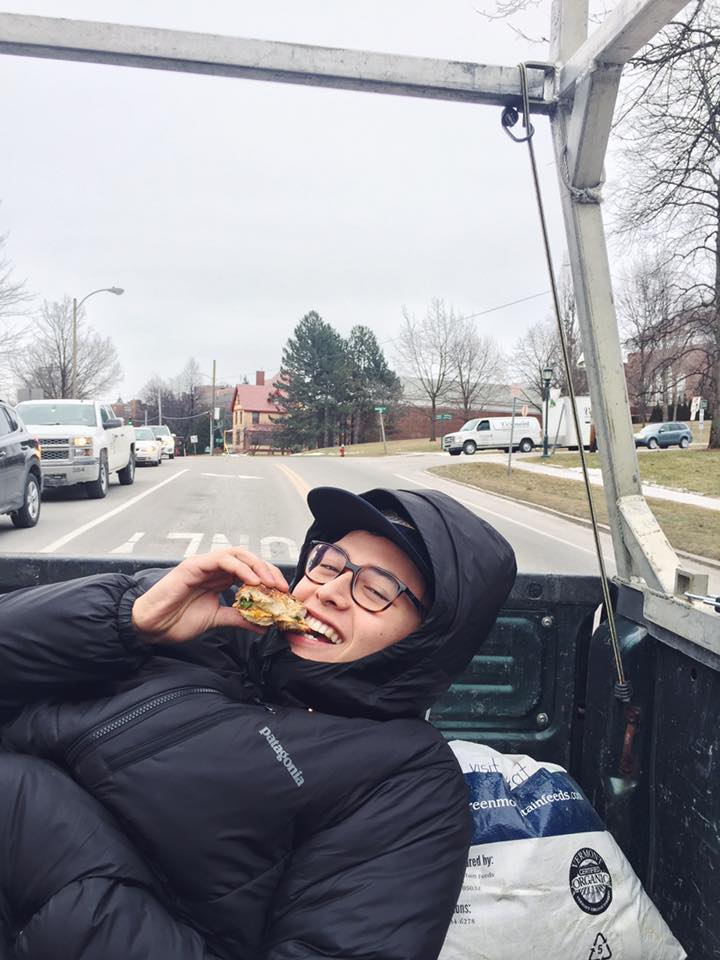 Twenty Years ago, a mountain goat and a chimpanzee got together, blessing the world with the boy that is Colby Yee. Colby loves to climb mountains and scale walls ~ in the nude ~ to reconnect with his primal, intuitive upbringing at the hooves of said goat.
Colby also loves to take photos; on any given day one could find him in stealth mode, crouching in bushes and shrubbery around Burlington in order to get the best shots of unsuspecting passersby. You can identify Colby by his battle cry: an explosive and contagious laugh bursting out of a seemingly quiet boy. Colby lives for the radical in life and truly brings positive energy wherever he wanders. Oh, and he cares about Social Justice. Maybe. Kinda.
Social Justice Coordinator: Margaux Miller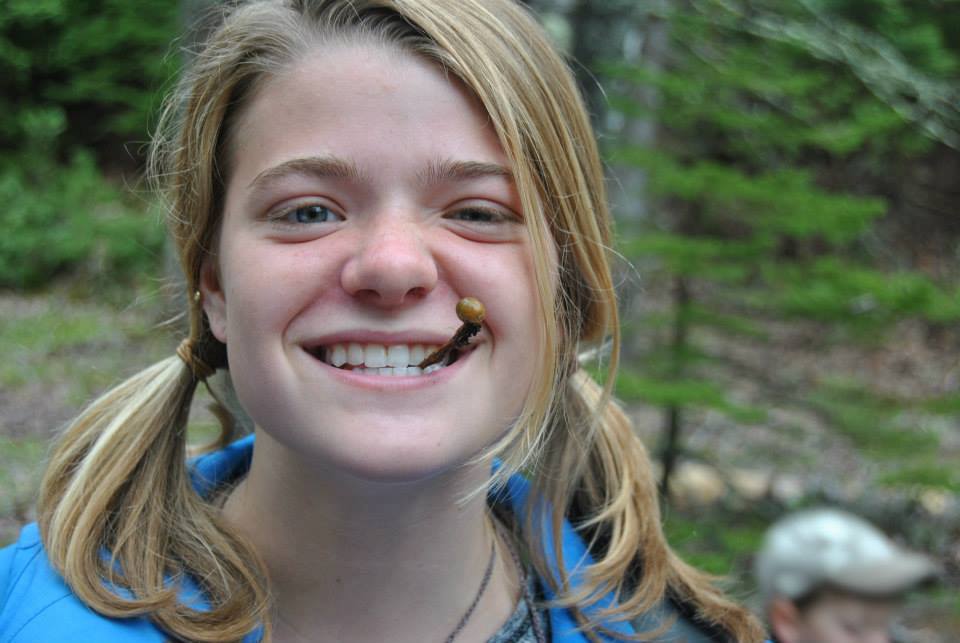 Better known as M&M or Super Social Justice Hero Margaux, you can find this woman with an inspirational sign in her hand and passion in her heart, always standing for issues that she believes in. Without fail, Margaux will greet you with a smile and call you by name. She enjoys sharing her passions, rolling around in the decomposing ground layer of centennial woods, drinking water, befriending anything living, throwing snowballs at unassuming citizens of Burlington (all in fun), and working at Skinny P. If you're lucky, you can occasionally get a glimpse of her beautiful voice. Go talk to this lady!
Pro Dealer and Shwag Coordinator: Sven McCall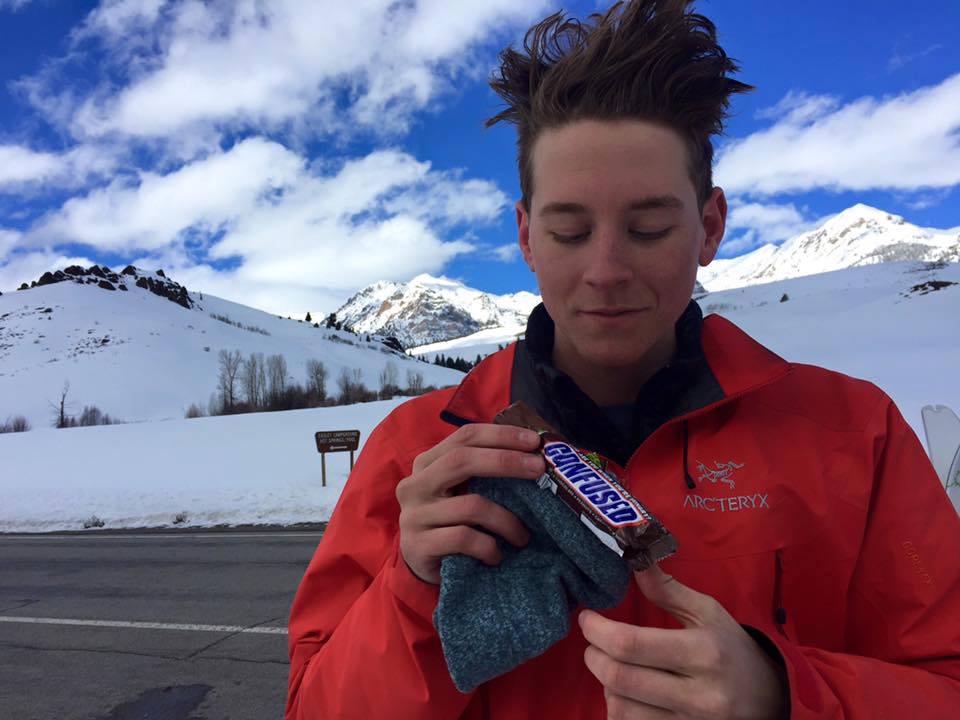 Sven is a man of many talents. You can often find him clinging to the sides of snow-capped peaks screeching as his skis plummet down the slope below him. The summer is not different; he has been seen scaling trees and telephone poles on his skis. rumor has it he uses a military-grade adhesive to stay in his boots which requires approximately 8 hours of soaking to remove. We're not sure where he gets it, but we have our theories.
Alumni Coordinator: Beatrix Berry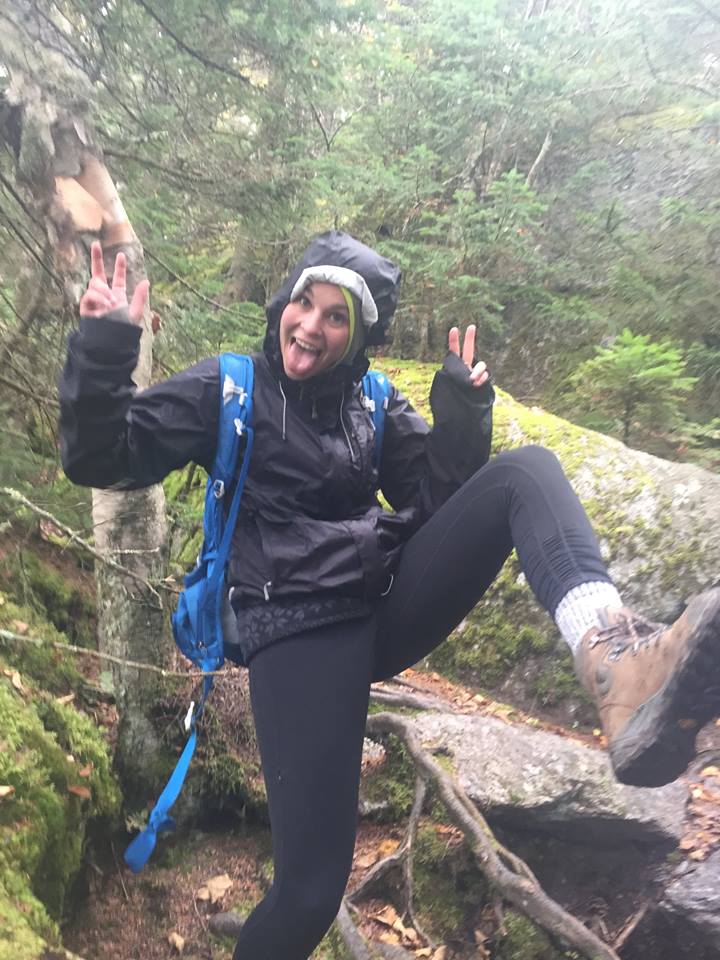 Unlike the Grinch (in many ways), our dear Beatrix Berry was born with a heart three sizes too big! What does she do with all that extra compassion and luv? For one, she serves the Outing Club as our devoted alumni coordinator! Beatrix works hard at rebuilding connections with old OC members and undertaking awesome projects for the club!
She hails from the far away land of California, where it is rumored all the sunshine and warmth in her smile comes from, but for now, she's a Vermonter! You can find Beatrix on mountaintops, running around Burlington, or running the world someday soon!
Social Media and Website Coordinator: Hannah Carpino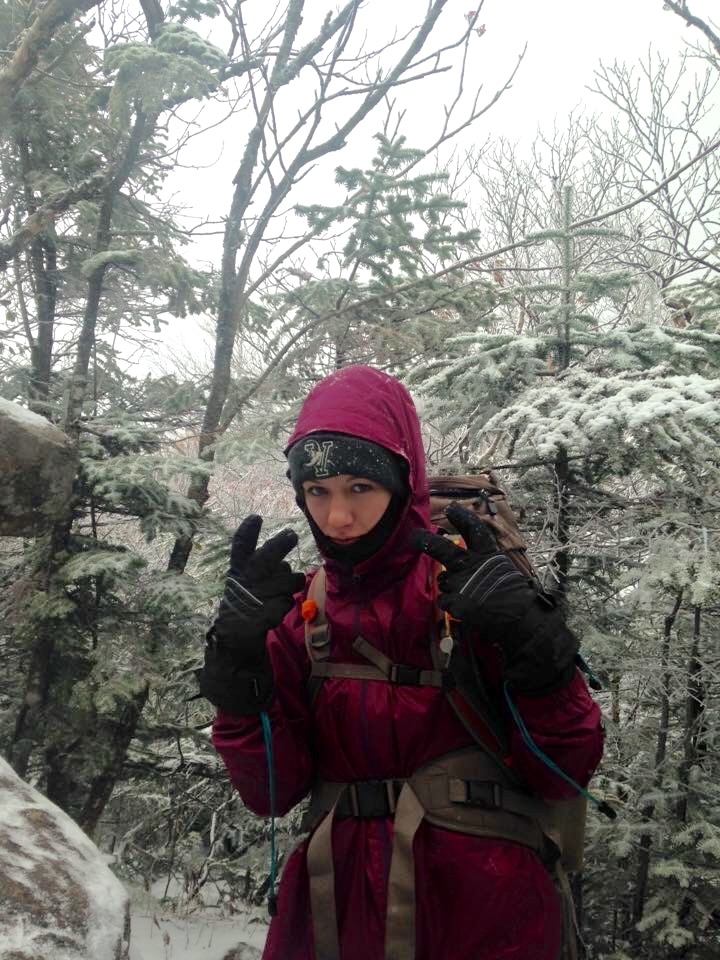 Hannah Carpino, Gremlin-in-Chief, was raised in the caves and under the streets of Burlington, as most gremlins are.
Her most recent hobbies include trying to digest dry pasta, releasing a solo noise project that's mostly her humming nervously and drumming on tables, and trying to navigate the strange intersection between a love of the outdoors and a deep confusion surrounding the internet. If you're looking for her, you best check your local dumpster, as she is currently moonlighting as a piece of trash/ raccoon. Best of luck in your search for Hannah!
Trail Maintenance Coordinator: Sam Kilburn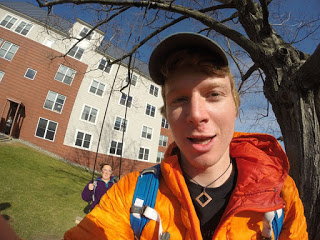 Sam was born in a hauntingly soon dystopian future in 2117. He was orphaned at a young age when his parents were killed in a sudden mudslide while walking through future Times Square. He was raised in an orphanage run by evil sentient coffee machines, plotting to take over the world one macchiato at a time.
At age 12 he vowed to forever don suspenders and Dickies and fight this 'Erosion' responsible for taking the ones he loved. Sam very quickly built a time machine, science is easier in the future, and brought himself to quaint New England to start his heroic destruction of this force of nature. Sam has devoted his time in our time to hiding in the woods, brutishly cutting down trees and throwing rocks around in search of Erosion so he can beat the crap out of it. Little does he know, his sustainable trail work has been killing erosion all along. He also likes knitting and long walks on the beach and teaching others why the outside is the right side.
Some call him a master of trails, others a trail master. Sam calls himself Grandpa because time travel is weird. You might be wondering how he can be his own grandfather because how did he originally travel back in time if he had not been born yet. Well you're reading a UVMOC cabinet bio right now. I'm proud of you and your attention to the little things.
Last modified June 29 2017 11:57 PM