Vermont Farmer Profiles
Adam and Melissa Minor, Minor Family Maple LLC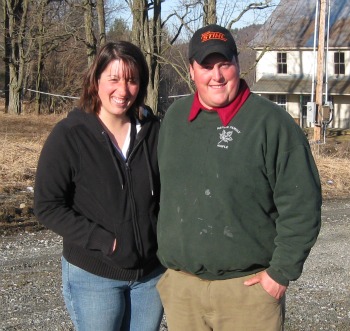 Melissa and Adam Minor, Minor Family Maple
Trends suggest that Vermont has been losing farmland for the last 30 years, but the Minor family's story is a welcome example of how Vermont will keep its family farms well into the future. Adam and Melissa Minor are part of a younger generation hard at work to continue their family's farming legacy; they've recently purchased a farm of their own in order to enhance the extended family operation, Minor Family Maple, LLC. Their story is one of where several key players banded together to enable the purchase. All players in the story played important parts. For example, the land owners selling to Adam and Melissa voluntarily sold to the Minors at "ag-value," sacrificing their opportunity to get a much higher fair-market price. This was done for the sake of keeping the land as a working farm.
Minor Family Maple wasn't always a maple operation. Adam's parents, Tom and Bev, specialized in dairy up until 2003. Then, as Adam explains, "it became tough to follow the roller-coaster ride of the dairy industry," and it was time to shift into other enterprises. The farm sold its dairy herd and bought 30 Hereford beef cattle. Perched in the heart of maple country, the farm had tapped trees and boiled sap for many years. In 2002 the farm bought a reverse osmosis system, allowing the family to significantly boost production. In 2003 a new sugar house was built, and the farm was well on its way to becoming one of the areas major maple syrup wholesalers. Minor Family Maple was established as a limited liability company (LLC) in 2009, and Adam and Melissa became members. By 2010, the farm had 18,800 total taps on the homestead farm.
Minor Family Maple Sugarhouse
In 2009 Adam and Melissa were offered the opportunity to purchase a nearby farm. Adam and Melissa knew this land well. They had provided sugaring installation services and helped install the 6,600 taps in the farm's woods. Minor Family Maple had also been buying sap from the farm owner to process back at their sugar house. Naturally, Adam and Melissa expressed interest in buying the property, especially considering that the owner felt it was important to keep the 170 acres, the 1804 farmhouse, dairy barn, and outbuildings in the hands of a farmer. In fact, it was so important that the owner decided to offer to sell the land to the Minors at reduced agricultural value.
When it came time to coming up with a down payment and a loan to purchase the property, Adam and Melissa realized that it would be tough for them to obtain a loan through commercial banks. Often it is difficult for farmers to prove to banks that current income is sufficient to carry the debt load needed for farm capital. Adam's parents would have an easier time getting a bank loan to purchase the property, but Tom Minor came to the conclusion, "At the age of 56 I just can't take on another mortgage!" It was up to Melissa and Adam to find another way. They approached Yankee Farm Credit in St. Albans about low-interest loans that would enable them to purchase the farm. Tom St. Pierre at Farm Credit was happy to assist the Minors in working out the loan terms. He took the extra step of inviting in the USDA Farm Services Agency (FSA). It is common for FSA and other lenders, such as Farm Credit, to team together to make a farm loan possible. Meghan Dubois, from the Newport FSA office, joined the team to serve the Minors. Both Tom St. Pierre and Meghan Dubois made visits to the farm and worked closely with the young couple. They helped fine tune the Minors' business plan and make sure all necessary paperwork was in order.
The Minors qualified for FSA's Downpayment Program, a special program designed to assist beginning farmers in purchasing a farm. Melissa and Adam were good candidates for the Downpayment Program because, although they had grown up farming, they were still considered "beginning farmers," yet to own their own major operation. According to USDA, a "beginning farmer" is one who has operated his/her own operation for less than 10 years. Beginning farmer or not, it was clear that the Minors were some of the most qualified farmers to take advantage of the opportunity: Adam had lived and breathed farming his entire life before considering purchasing his own land. Working along side his folks, Tom and Bev, he's been farming since the age of four. Over the years he's developed more skills than a car has parts. He is attuned to the subtle changes in every day's weather and seasons. He's been part of the major changes that have taken place on the Minors' family farm over the years. FSA's Downpayment loan program is sometimes known as the 5-45-50 program. These are not fertilizer percentages! Five (5) is the percent of the purchase price that the farmer puts forth as a downpayment, forty-five (45) is the percentage of the purchase price that FSA will finance, and fifty (50) is the percentage of the purchase price that another commercial lender, in this case Yankee Farm Credit, will finance. FSA will also guarantee up to 95% of the portion that the commercial lender puts up. For FSA's portion of the loan, the interest rate is well below normal. In this case it was set at the minimum 1.5%.
Sound complicated? According to the Minors the process was not at all daunting. "Everyone was more than accommodating," states Melissa. Adam agrees, "I think it went extremely smooth, there were no hassles whatsoever." Both Adam and Melissa were particularly pleased with the fact that the loan officers took the time to visit the farm and personally get to know Adam, Melissa, and their operation. A fine-tuned business plan and healthy financials helped with both FSA and Farm Credit, and it became obvious that the loan was also being made largely based on character.
Brendan Driscoll, a Minor Family Maple employee, also remarked on how easy it is to work with FSA. He has financed his own operation through an FSA operating loan. "One of the things I like about working with FSA is the loan is based on character," says Driscoll. "FSA understands that you're truly dedicated." He concludes, "Finally, working hard pays off!" Studying the Minors example has helped Driscoll. He and the Minors have been sharing ideas about farm financing throughout their respective endeavors, and Driscoll is currently engaged in buying 30 acres of his parents land for his own farm operation through an FSA farm ownership loan.
Adam and Melissa are excited about the prospects that their new farm will bring. With two young girls of their own, ages 10 and 6, Melissa and Adam are dedicated to keeping the Minor Family Maple operation thriving. They purchased their own land not to become separate from the elder generation's family operation, but to expand upon it and add value to it. Adam and Melissa are partners in Minor Family Maple, LLC, and will use their newly acquired farm to support their membership in the LLC and make it more productive.
Thinking back, Melissa recalls, "I had one office job and from there was sure that my life was on the farm!" Adam agrees jokingly, "I don't know about making a living… but it sure is a good life!" They give thanks to the team of organizations and individuals who made their farm purchase possible: The original land owner, Farm Credit, FSA, and Tom and Bev Minor were all key pillars of support. The team effort exhibited by in this Fletcher farming community is a solid example of how farmland can be preserved and how secure tenure can be transferred to Vermont's future land stewards.
Last modified March 28 2011 01:43 PM