Classes: Growing Places—For aspiring farmers and start-ups
Upcoming Sessions
Location: Online.
Dates: January 6-31, 2020
Early Registration through December 18, 2019; Cost: $100.
Standard registration: Beginning December 19, 2019. Cost: $150
To request a disability-related accommodation to participate in this program, please contact Mary Peabody at 802-656-7232 by December 18, 2019.
Growing Places is designed for individuals:
who are considering starting an agriculture or natural resource based business, but who aren't sure where to start.
Growing Places is designed to help participants:
develop a comprehensive goal statement which will help in the business planning process
explore and evaluate opportunities and resources
become familiar with state and federal agriculture programs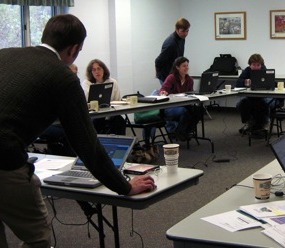 Growing Places is organized into six modules, each addressing a different aspect of business development. Each session pulls in experts in that particular topic area to give depth to the lecture, discussion, and hands-on exercises that make up the course format. Farmer and industry guest speakers are an important component of the course. By sharing their experiences -- via webinars and video clips - they bring a much appreciated realistic perspective on starting and growing agricultural businesses.
The online session is open to anyone with an Internet connection. Each week, we will offer a short (30-45 minute) live session via the Zoom webinar platform. These sessions will be recorded so that participants who are unable to make the live session can view the recording at their convenience.
Detailed information about the Growing Places curriculum is available at the Women's Agricultural Network (WAgN) website.
Scholarship and Financial Aid information: Financial aid is available for eligible individuals. At the end of the registration form, you can make a request for financial aid.
Last modified August 28 2019 11:20 AM