Classes: Growing Places—For aspiring farmers and start-ups
Upcoming Sessions
Location: Online
Dates: Jan. 26, - Feb. 23, 2016
Early registration deadline: January 10, 2016; Cost: $95
Standard registration deadline: January 17, 2016: Cost: $110

Registrations received after Jan.17, 2016 will be subject to a $50 late fee.
Register here.
*NEW* Financial assistance for military veterans
Through a new partnership with a USDA-funded program at Sterling College, military veterans are eligible for scholarship to Growing Places and will also be eligible for individual follow-up individual technical assistance.
To request a disability-related accommodation to participate in this program, please contact Beth Holtzman at 802-476-2003 by December 23, 2015.
Growing Places is designed for individuals:
who are considering starting an agriculture or natural resource based business, but who aren't sure where to start.
Growing Places is designed to help participants:
develop a comprehensive goal statement which will help in the business planning process
explore and evaluate opportunities and resources
become familiar with state and federal agriculture programs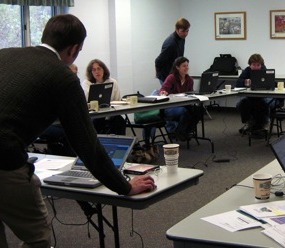 Growing Places is organized into six modules, each addressing a different aspect of business development. Each session pulls in experts in that particular topic area to give depth to the lecture, discussion, and hands-on exercises that make up the course format. Farmer guest speakers and panelists are an important component, and by sharing their experiences with the group, offer a much appreciated realistic perspective.
The in person class will be offered simultaneously in multiple locations in Vermont, with an on-site instructor at each location. The online session is open to anyone with an Internet connection and uses the Blackboard platform.
Detailed information about the Growing Places curriculum is available at the Women's Agricultural Network (WAgN) website. Session information and the link to the registration form are also available at the WAgN site.
Scholarship and Financial Aid information: Financial aid is available for eligible individuals. At the end of the registration form, you can make a request for financial aid.
This session of Growing Places is made possible in part by funding from the USDA Office of Outreach and USDA Risk Management Agency.
Last modified January 06 2016 11:40 AM