New Farmer Calendar
Saturday, May 25, 2013
Making Simple Cheeses
Time: 9:00 a.m. to 3:00 p.m.
Location: Foxborough, MA
Description: Oake Knoll Ayrshires at Lawton's Family Farm, Foxborough, MA This workshop provides a general understanding of how milk is made into cheese and what to look for when selecting milk for cheese-making. The workshop is primarily hands-on, demonstrating what the milk and curds and cheese look like at each step of the process. Learn to diagnose and fix problems during the process to produce delicious cheeses, even if things don't come out precisely as intended. Cheeses we will learn to make: Fresh Mozzarella & Queso Blanco (a Spanish cooking cheese, often fried). The instructor is Terri Lawton, who operates a dairy and cheese-making operation on her family's 25 acre farm, which began in 1730. CONTACT: Ben Grosscup, 413-658-5374 or by email, ben.grosscup@nofamass.org; put "Cheese-Making" in subject.
COST: $65 NOFA members; $70 non-members


The Great Grape and Bean Pairing
Time: 4:00 p.m. to 7:00 p.m.
Location: Waitsfield, VT
Description: Knoll Farm, Waitsfield, VT
Tickets: $35
Proceeds go to Vermont Bean Crafters to puchase processing equipment for locally grown beans and grains, increasing local staple foods access in retail, restaurant, and institutional venues.
Sunday, May 26, 2013
Making Simple Cheeses
Time: 9:00 a.m. to 3:00 p.m.
Location: Foxborourgh, MA
Description: Go to NOFA-MA for more information!

Oake Knoll Ayrshires at Lawton's Family Farm, Foxborough
$65 NOFA members; $70 non-members

This workshop provides a general understanding of how milk is made into cheese and what to look for when selecting milk for cheese-making. The workshop is primarily hands-on, demonstrating what the milk and curds and cheese look like at each step of the process. Learn to diagnose and fix problems during the process to produce delicious cheeses, even if things don't come out precisely as intended.

NOFA-MA: Managing a Horse-Powered CSA
Time: 1:00 p.m. to 5:00 p.m.
Location: Conway, MA
Description: Natural Roots Farm relies exclusively on horse-power to run a 200-member CSA and to harvest hay and timber. Participants will see live horse-power demonstrations on a variety of traditional and recently innovated horse-drawn implements and will learn how these practices are used in the farm's vegetable production systems.

Instructor: David Fisher runs a 200-member horse-powered CSA and has been farming for 15 years. Natural Roots Farm 888 Shelburne Falls Road Conway, MA

For more info: www.nofamass.org/events/managing-horse-powered-csa#.UTTldWfm55c
Tuesday, May 28, 2013
Fences for Multi-Species Grazing
Time: 7:00 p.m. to 8:00 p.m.
Location: Webinar
Description: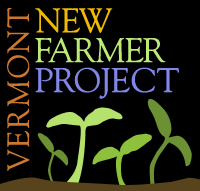 Fencing for Multi-Species Grazing with Colin Kennard, of Wellscroft Fencing.

Colin Kennard's experience has given him great insight on how animals interact and respect - or don't respect fences. A second generation Wellscroft Fencing retailer and livestock farmer, his experience with agricultural fencing products continues to evolve along with innovations in the industry. He is passionate about giving people the knowledge and tools to allow their operations, from small backyard gardens to large commercial livestock farms, to thrive. Join this webinar to learn about fencing for multi-species grazing from an expert!

Newcomers to online learning are welcome. All you need to participate is internet access and a computer that you can hear sound through. To participate, please go to go.uvm.edu/aemon at about 6:45 pm EST on May 28, 2013 and click on the webinar title. For more information, contact newfarmer@uvm.edu or call 802-223-2389x203.

If you require accommodations to participate in this program, please let Jessie Schmidt know by May 21 19, 2013 at 802-223-2389 or 1-866-860-1382 (toll-free in VT) or newfarmer@uvm.edu so we may assist you. If you have not participated in a webinar before, we recommend you download the necessary software for free the day before the webinar is scheduled at tiny.cc/UVMWebinarCheck.

UVM Extension helps individuals and communities put research-based knowledge to work.

University of Vermont Extension, and U.S. Department of Agriculture, cooperating, offer education and employment to everyone without regard to race, color, national origin, gender, religion, age, disability, political beliefs, sexual orientation, and marital or familial status.