342 Pearl Street
Klifa Club
By Andrea Livi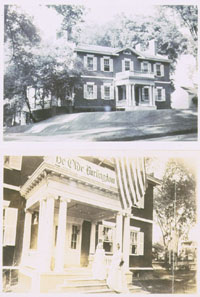 This house, built by Horace Loomis in 1800, is probably "the oldest remaining structure on Pearl Street"(33). Loomis owned a very large tract of land around the house, reaching from Pearl to North Street and from Willard to Prospect Street. Loomis was involved in the leather business and built a stone tannery across the street. This tannery was even listed as such on the De Beers Atlas of 1869. The Federal style house was eventually embellished by a Greek Revival style porch in the 1840s (34). The maps of the mid-18th century, including the Wainwright, Walling and Beers Atlas, all show that the Loomis family owned most of the surrounding land and buildings. During that time, the Loomis residence was a center of Burlington social life. Loomis was host to Henry Clay and President William Henry Harrison (35) among many others.
Loomis died in 1865, leaving the house to his daughter and her husband, Alfred Brookes (36). Like many of their contemporaries, the Brookes family kept their Burlington house as a summer home, spending their winters in New York. During this period, some changes were made to the house, including the Italianate style side porch added in 1879 (37). Mrs. Brookes, upon her death, left the house to her son who sold it in 1907 to Elbridge S. Adsit (38). Adsit rented the house to various groups including the Klifa Club, a lady's "Social Club"(39), which eventually bought the house in 1924. Today the house is still used by the Klifa Club, ensuring the continued utilization of this historic home.
Over its history, 342 Pearl Street served as a social center for Burlington. The photo to the right, for instance, shows an antiques show held there in the early part of the 20th century. Because of its new owners, the house still has a social function. Although the extensive Loomis lands have been sub-divided, sold and developed, the house still stands out among its neighbors. It remains a beautiful example of high-class architecture of the early 1800s.
Burlington 1830 | South Willard Street Introduction | Notes & Sources
Introduction | 1830 Young map | 1830-1988 overlay maps | Street index | Surviving 1830 buildings | UVM Historic Preservation Program