327 Pearl Street
George Perkins Marsh-J.H. Hills Home
By Andrea Livi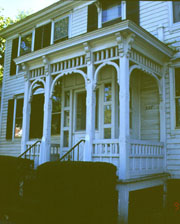 George Perkins Marsh, a "lawyer, diplomat and scholar"(25) built this house around 1815 (26). Originally, it was a Federal style house of post and beam construction, though the later alterations to this house have been extensive. Marsh married Harriet Buell, daughter of Ozia Buell who lived in 308 Pearl across the street (27). However, Harriet died in 1839 and Marsh moved to Church Street, keeping the house at 327 Pearl for rental. It is hard to ascertain whether this house was present on the 1830 Young map. A house is certainly visible at the corner of Willard and Pearl streets but its footprint is different. However, it is more than likely that the different footprint today is due to extensive additions to the house, making it probable that 127 Pearl is the house shown on Young's map.
According to tradition, John Wheeler, president of the University of Vermont, lived in this house (28)between 1833 and 1842 when his own house was completed at the corner of South Prospect and Main streets. David Blow states that no evidence of this is forthcoming, probably because Wheeler rented the house informally from Marsh. Marsh eventually sold the house to its most famous resident, James Hills, in 1856. Hills was a well-known engraver and painter, who taught his craft in the area (29). He left the house when his wife died in 1875.
Stephen D. Hopkins, a "U.S. Customs Inspector" (30), bought the house from Hills in 1881. Under his ownership, the house was greatly changed. Hopkins covered the house in Eastlake stickwork to "modernize" the look of the house. He added a south wing, a side porch and entrance porch as well as such details as oriel windows, turned posts and stickwork arches. Today the house still has these added details, rendering the dating of the house from the street difficult to impossible. The house looks like many later constructions along Willard Street.
Hopkins eventually sold the house to John E Hogan, a retired foreman. Hogan died in the early 20th century but his wife kept the house until her death 1952. The house "was listed as vacant" (31) until 1956 when Ralph and Thelma Lafayette bought the house (32). Today, the house is still a residence and has seen few changes since the drastic alterations of the 1880s. The lower value of the house, however, is apparent in its poor condition. What was once a fancy household now blends in with the middle class residences of the area.
Burlington 1830 | South Willard Street Introduction | Notes & Sources
Introduction | 1830 Young map | 1830-1988 overlay maps | Street index | Surviving 1830 buildings | UVM Historic Preservation Program