Pearl House
By Michael Johnson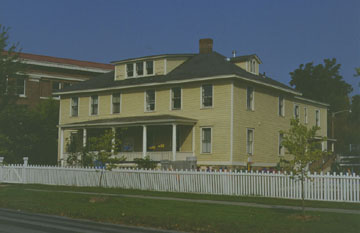 The building at 12 Colchester Avenue, also known as Pearl House, is probably the oldest frame structure in Burlington. Construction of the building was begun in 1789 by Frederick Saxton and completed at a later date. In 1794, it was sold, along with fifty acres, to Colonel Stephen Pearl. At the time, the house stood on a cleared lot surrounded by forest.
Upon being elected sheriff of Chittenden County, Colonel Pearl moved to Burlington to be closer to the courts. Pearl was said to be a generous man who was often entertaining friends and travelers, which may explain why some accounts claim he operated an inn at the house. The house was well known in the area and may be responsible for the name "Pearl Street", as many 18th century deeds refer to "the road leading past Col. Pearl's." Colonel Pearl lived there with his wife until his death in 1816. The plan of this house, shown on the 1830 Ami B. Young Plan of the Village of Burlington, is most likely unchanged from the original house built by Saxton in 1789.
From 1856 to 1906, the house was known as the Foote house, though the lawyer whom it was named for sold the house to O.S. Wood in 1869. The house later came under ownership of Luther C. Dodge, a Burlington mayor from 1872-1874. Dodge sold the house and three acres to John French, Secretary of the State Board of Education and textbook author, in 1872.
French had the house remodeled in Victorian fashion sometime between 1874 and 1881. Most of what remains of the house today, aside from the original framing, dates to this remodeling. In 1919, the University of Vermont bought the house, with only one-and-a-half acres, and in 1989 restored it to its original, pre-1874, appearance. Today the building is operated as a day-care center for the children of Medical Center employees.
The structure is a three story, six-by-two bay, rectangular frame house on a rubble foundation. The dormers, porch, and ell extending from the north façade are likely recent additions. This building is listed on the National Register of Historic Places as a member of the University Green Historic District.
---
Blow, David J. Historic Guide to Burlington Neighborhoods. Burlington, Vermont: Chittenden County Historical Society, 1991.
United States Park Service. National Register of Historic Places: University of Vermont Green Historic District. Section 7, 1978.
Young, Ammi B. Plan of Burlington Village 1830.
---
Return To University Place Directory
Return To Burlington 1830 Main Page
Introduction | 1830 Young map | 1830-1988 overlay maps | Street index | Surviving 1830 buildings | UVM Historic Preservation Program