Johnson House
By Michael Johnson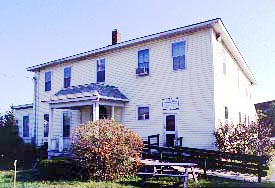 The house which presently stands at 590 Main Street, also known as the Johnson House, was built for Moses Catlin in 1806 at the corner of Main Street and University Place where the University of Vermont's Morrill Hall now stands. The building is a two-story, frame structure with a hipped roof, and retains historic clapboard siding beneath the exterior vinyl siding, which covers the house today.
Originally, the house was built as part of a twenty-two acre farm, which Catlin lived in for three years before selling it to John Johnson, Vermont's first surveyor, in 1809. Johnson designed and engineered the construction of numerous important buildings and bridges in northern Vermont and beyond, including Grasse Mount (1804) and Old Mill (1825-9) in Burlington.
The 1830 Ammi B. Young map of Burlington shows the building as an L-shaped structure with a building attached to the southeast corner and an outbuilding just to the east of the house. The house remained in the Johnson-Allen family and survived largely intact, with only minor changes until 1906, when the building was given to the University of Vermont and moved to its present location. The Johnson House was remodeled as a living quarters for farmhands and sometime before 1912 a new porch was built and the ell on the north side partitioned.
The building changed again when it housed the Agronomy Department from 1928 to 1950. A greenhouse was added and the interior was opened up and painted. In 1950, the School of Dental Hygiene moved in and the interior was again partitioned to house equipment, a darkroom, a lab and a classroom. A dental school and office remained there until the Center for Sustainable Agriculture moved in in 1987.
---
Philip, Liz; ms. History of Johnson House. UVM Historic Preservation Program Resource Library. 1999.
Young, Ammi B. Plan of Burlington Village 1830.
Photo of Johnson House by Prof. Thomas Visser, UVM Historic Preservation Program, 1999.
---
Return To University Place Directory
Introduction | 1830 Young map | 1830-1988 overlay maps | Street index | Surviving 1830 buildings | UVM Historic Preservation Program