The Benedict House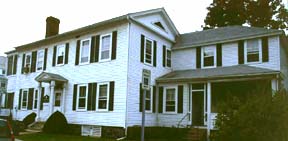 31 South Prospect Street
By Katharine Burns
The Benedict House, named for its second prominent resident, is a typical example of a high-style early 19th century Burlington residence. Judge Daniel Farrand built the house for himself in 1809 and raised his nine daughters in its confines. Farrand enjoyed an illustrious public career (1). Trained in law, he served as Vermont Speaker of the House of
Representatives from 1798-99, and spent two years on the Vermont Supreme Court. His Federalist views won him the latter position, but political tides reversed to force him out. An extremely prominent figure, Farrand was tapped to give a welcoming speech when President Monroe visited the city in 1817. Despite his late arrival to the city, Farrand contributed a great deal before his death in 1825.

UVM Professional George Benedict purchased the house in 1828 for $1,350 from Farrand's heirs. A math and natural science professor, Benedict also served as president pro tem of the university during the 1830s. According the Blow, his work in that position helped to poise the university for the changes implemented by James Marsh. Benedict's retirement from teaching did not result in a leisurely lifestyle, however: he began working in the telegraph industry in order to work outdoors (an endeavor pursued with Ezra Cornell), and also purchased a controlling interest in the Burlington Free Press. Much like his predecessor, Benedict tried his hand at politics, serving as a State Senator in the mid 1950s. After his death in 1871, his son's family joined his widow at the residence.

Despite this flurry of activity and attention, the National Register comments that the Benedict House "has retainedits early 19th century character" (2). The original building has been expanded several times, with the two-story northern addition shown above as an obvious example. An enclosed one-story porch flanks the southern side of the pre-1830 structure. The Benedict House is currently home to the Sociology Department of UVM, and displays the evidence of this adaptation. Nevertheless, the essential character of the building in which Farrand composed his speech to Monroe and Benedict plotted to save the university is beautifully exposed.
Sources
(1) David Blow, Historic Guide to Burlington Neighborhoods. Vol. 1. (Burlington:, Vermont: Chittenden County Historical Society, 1991), 167. All information contained in this report taken from Blow, 167-168.
(2) National Register of Historic Places Inventory--Nomination Form. (Washington, D.C.: United States Department of the Interior, National Park Service, 1973).
THE NICHOLSON HOUSE
Introduction | 1830 Young map | 1830-1988 overlay maps | Street index | Surviving 1830 buildings | UVM Historic Preservation Program