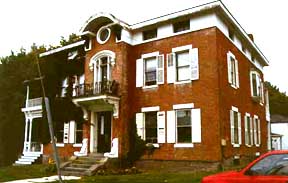 416 Pearl Street
Moore-Woodbury House
According to the 1830 Amni B. Young map of Burlington, and subsequent maps of the area this structure has retained much of it's original shape. (1) The Moore-Woodbury House, at 416 Pearl Street was built around 1815 by George Moore, a prominent member of early Burlington Society. This house, unlike its neighboring house, the Seymour house, remained in the Moore family until the mid 1800s. In 1886, Urban Woodbury who served as Mayor of Burlington as well as Governor of Vermont, acquired the house. (2) In the late 19th Century additions were made, which include the oriel window on the eastern wall, and the two story porch on the western side. Additional Victorian style details were also added at this time. These additions serve to magnify what already was a large and stately home. A home that served the needs of a prominent statesman entertaining influential guests, including William McKinley, Theodore Roosevelt, and William Taft. In 1935 a bronze plaque commemorating these visits was placed on the front of the house. (3) Today this plaque is nowhere to be found, and this once stately mansion has been divided into apartments, and its upkeep neglected.
Sources
3. Amni B. Young, Plan of Burlington Village, 1830. Special Collections, University of Vermont, Burlington, Vermont.
2. David Blow, Historic Guides to Burlington Neighborhoods. Burlington: Chittenden County Historical Society, 1990.
3. United States National Park Service, National Register of Historic Places Inventory: nomination form. Burlington, Vermont, 1970.