Composting and Soil
Composting is a great amendment for soils, adding nutrients and improving soil structure. Since it breaks down over the year, it should be added to soils yearly. Compost is an easy way to recycle yard wastes without hauling them to a landfill. The procedure can be as simple or complex.
Find instruction on ...
Soil, fertilization and nutrient management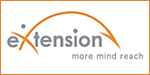 UVM participates in eXtension: A national organization creating rich education for local Extension programs.
Composting
Last modified January 27 2015 08:32 AM